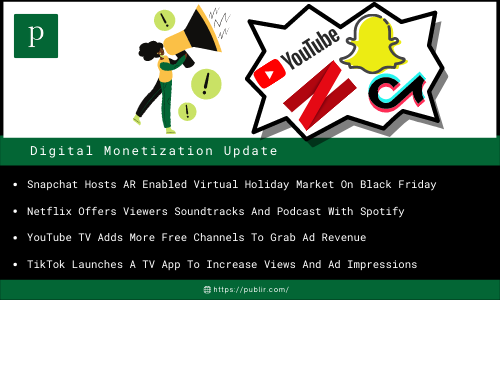 1. Snapchat Hosts AR Enabled Virtual Holiday Market On Black Friday (AdAge)

Snapchat will host a virtual holiday market on Black Friday using AR technology to help shoppers browse products. It features six shopping experiences, including a dedicated, custom-built, virtual store for users to browse products, holiday deals, and complete in-app purchases and checkout. Brands like Walmart, Verizon, and Coca-Cola are in now.

2. Netflix Offers Viewers Soundtracks And Podcast With Spotify (TechCrunch)

Netflix partnered with Spotify to introduce a new "Netflix Hub" on its app to offer soundtracks, playlists, and podcasts for top shows and movies on Netflix. This partnership is not in exchange for money or ad revenue, but to get mutually benefitted by serving music and film fans of both the platforms with the best and the latest releases.

3. YouTube TV Adds More Free Channels To Grab Ad Revenue (TheInformation)

YouTube is in talks with Brat TV, Vox Media, and Pocket.Watch to add their favorite shows to the YouTube TV lineup for subscription offering. Major TV channels like ESPN and CNN have already listed with YouTube TV to grab ad dollars that are increasingly pouring to video-streaming watched on the TV rather than on phones or computers.

4. TikTok Launches A TV App To Increase Views And Ad Impressions (Variety)

TikTok, with over 1 billion monthly users, has launched the TikTok TV app on Google TV and other Android TV operating system devices, like LG and Samsung Smart TVs in North America. The move underscores its positioning, primarily as an entertainment destination, not a social media play. The aim is to increase views and ad impressions.

5. EU Digital Markets Act To Impact Major US And EU Tech Companies (Bloomberg)

Lawmakers have voted to approve the measures of the lead committee in the European Parliament that proposed measures to regulate digital and social media apps. Measures like a ban on behavioral targeting of ads to minors and 20% fine on platform's global sale for violating laws are expected to impact major US and European tech companies.

6. Apple's Lawsuit On NSO For Inserting Spyware Exposes iPhone Threats (NYT)

A recent study found that 98% of mobile malware targets Android devices and Apple boasts iPhones as the most secured consumer mobile device on the market. Yet, Apple filed a lawsuit against NSO Group, an Israeli surveillance company, for allegedly infecting iPhones with spyware. This exposes the fact that iPhones are not free from threats.

7. Social Users Seeking Inspiration, Leaving Undesirable Ones (MediaPost)

Playsee, a video-sharing social media app, conducted a survey on social media users. The study reported increased American teens' screen time, which doubled to 8 hours per day, and 65% of users between the ages of 18 and 54 reported one or more hours of increased screen time. Users are seeking more authentic, relatable, and positive content.

8. Outbrain Brought Video Intelligence For $55M To Offer CTV Metrics (DigiDay)

Outbrain purchased Video Intelligence, a company with client roster of media companies like Axel Springer, IDG, and Tegna for $55million, according to Outbrain co-CEO David Kostman. This would help Outbrain to boost its existing video business accounted for 9% of its Q3 revenue of $100 million and to offer CTV metrics.