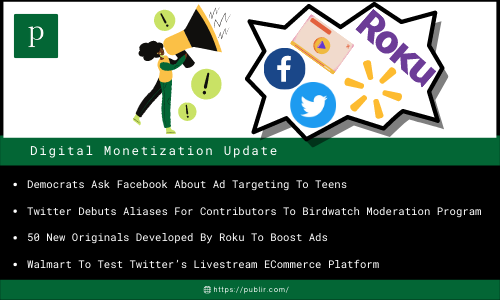 1. Democrats Ask Facebook About Ad Targeting To Teens (MediaPost)
Lawmakers are demanding an explanation from Facebook on how it targets advertisements for underage users, including if the firm uses data about teen web usage in its ad-serving algorithms. In July, Facebook said that marketers will no longer be able to target advertising to children based on their site and app activities or their indicated interests.
2. Twitter Debuts Aliases For Contributors To Birdwatch Moderation Program (TheVerge)
Participants in Twitter's Birdwatch moderation tool will be able to use aliases instead of their identities in notes they write on other people's tweets. When the pilot of Birdwatch began in January, the contributors "overwhelmingly voiced a preference for contributing under aliases. This preference was strongest for women and Black contributors".
3. 50 New Originals Developed By Roku To Boost Ads (MediaPost)
By 2024, Roku intends to create 50 "ad-friendly" new shows for 18-to-49-year-olds, and is already accepting submissions for scripted and unscripted shows. The company, whose stock has been on the down for the past three months as a result of decreased video-revenue predictions, is attempting to increase ad revenue with more original content.
4. Walmart To Test Twitter's Livestream ECommerce Platform (TechCrunch)
Livestream shopping is now part of Twitter's eCommerce plans, and Walmart will be the first store to test the new platform. On November 28, Walmart will launch a Cyber Deals live event on Twitter, where viewers will be able to watch a live broadcast, shop the featured products, and participate in the event discourse by tweeting.
5. Nielson Plans To Overhaul Its Commercial Ratings In 2022 (Variety)
Nielsen's "commercial ratings" or measurement of TV ad break viewing, have been at the heart of advertising talks between media corporations and Madison Avenue since 2007. It now claims to have the technology to measure the viewership for individual ads. In Q3, Nielsen reported $637 million in revenue from audience measurement operations.
6. Google To Roll Out Update Showing iMessage Reactions As Emoji (Engadget)
The most recent update of Google's Messages app appears to resolve a long-standing issue for Android users: it now accurately shows reactions made via Apple's iMessage. Google introduced emoji replies to Messages on RCS-compatible Android smartphones last year, although they differ from iOS Tapbacks in several ways.
7. TikTok Trying To Guarantee Brand Safety On 'For You' Page (AdAge)
TikTok teamed up with ad tech firm OpenSlate last year to verify the order of advertising on the "For You" tab, which is the primary video stream customized for TikTok's 1 billion-plus users. TikTok and Integral Ad Science, another independent ad viewability provider, announced a partnership in September to test videos for brands.
8. Spotify Stops Shuffling Albums By Default For Premium Subscribers (BBC)
Adele convinced Spotify to remove the shuffle button from all album pages, allowing music to play in the artist's preferred sequence. Spotify confirmed that it is rolling out the feature that was "long requested by both users and artists." The shuffle option will now be there with a default to playing tracks in the order selected by the artist.