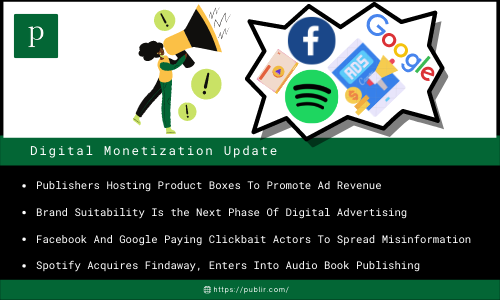 Publishers Hosting Product Boxes To Promote Ad Revenue (DigiDay)
Publishers are introducing product boxes for sale, alongside their curated editorial content these days to increase ad revenue. InStyle, a fashion magazine, introduced a line of limited-edition boxes curated around astrological signs with beauty items and Group Nine has built a seven-figure business from its branded product box ad program.
2. Brand Suitability Is the Next Phase Of Digital Advertising (AdExchager)
According to a recent survey of 177 media agencies, over 37% of YouTube impressions would be off-targeted if brand suitability is not ensured to avoid non-performing content. Unlike brand safety, which is a defensive technique of avoiding toxic content, brand suitability is a proactive way of finding high-performance content.
3. Facebook And Google Paying Clickbait Actors To Spread Misinformation (MITTR)
According to an MIT Technology Review investigation, Facebook and Google have been fuelling misinformation since 2015, when the farmer launched an Instant Article Program. Based on expert interviews and data analyses, it found the tech giants paying millions of ad dollars to bankroll clickbait actors to promote misinformation around the world.
4. Spotify Acquires Findaway, Enters Into Audio Book Publishing (TheVerge)
Spotify acquired Findaway, an audiobook creation, and distribution company, for an undisclosed amount last week. Findaway operates on a business model of "voices", which provides a narrator to the author to see that their book gets transformed in audio with background music and audio clips. Authors have to pay for these services.
5. Buzzfeed To Start Publicity Trading From This December (NYT)
BuzzFeed, known for its meme-driven listicles, quizzes, and news division is planning to acquire the sports and entertainment publisher Complex Networks as part of its deal with 890 5th Avenue Partners, which is a blank-check company. This merger will qualify Buzzfeed to trade on the public markets, starting this December 6.
6. Facebook's New Customization Tools For Users And Advertisers (MediaPost)
Facebook announced a series of tools to help users and advertisers to customize and control what they see in their news feeds. These new customization options in its news feed preferences setting will enable users to increase or reduce the amount of content they see from friends and family, groups, pages, and topics they are connected to.
7. Hulu Adds Disney+ And ESPN+ Raising $5 A Month (AdAge)
At a time when the growth of Walt Disney Inc., is deteriorating, the company has decided to add Disney+ and ESPN+ to its Hulu+ Live TV product by increasing the price by $5 a month. This will offer the flagship Disney+ streaming service to millions of more customers at a time, starting December 21 this year.