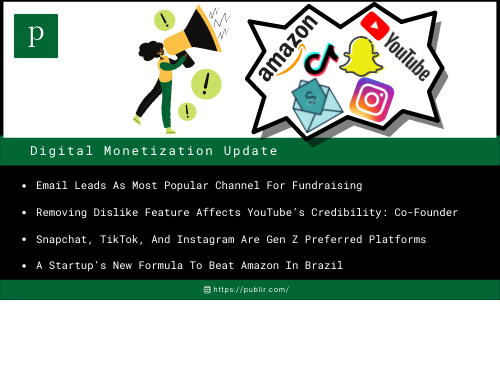 1. Email Leads As Most Popular Channel For Fundraising (MediaPost)
Email is the most popular fundraising channel for "Giving Tuesday ", with 76.4% of donors reacting to emails, followed by organic social media (66.67%), according to a RallyUp study on "Fundraising Best Practices for Giving Tuesday". Facebook is the most effective social media channel for fundraisers followed by Instagram and others.
2. Removing Dislike Feature Affects YouTube's Credibility: Co-Founder (TheVerge)
YouTube removed the public "dislike" feature last week to prevent harassment and promote respectful interactions between viewers and creators. Jawed Karim, the co-founder of YouTube says that "dislike" is the only way to identify bad content, and removal of this feature will decline the platform's credibility.
3. Snapchat, TikTok, And Instagram Are Gen Z Preferred Platforms (EMarketer)
According to eMarketer, Snapchat (42.0 million), TikTok (37.3 million), and Instagram (33.3 million) will remain the most favorable social media networks for Gen Zers until 2025. As they age, they are switching over to Facebook, Pinterest, Twitter, and Reddit. Snapchat, Instagram, Discord, and TikTok are the favorite apps of iPhone users.
4. A Startup's New Formula To Beat Amazon In Brazil (TheInformation)
China's eCommerce app Pinduoduo offers bargain-based deals and free shipping. Diego Dzodan, head of Facebook in Latin America three years ago has built his eCommerce startup on similar lines to beat Amazon in Brazil. The startup is close to raising over $100 million at a pre-money valuation of $1 billion, quadrupling its valuation to $250 million.
5. Spotify Expands Creator-Centric Podcast To Global Markets (TechCrunch)
Spotify announced that it is expanding the podcast subscriptions started to support the US creators to creators in global markets. It will now allow creators to mark episodes as "subscriber-only" content in 33 new markets worldwide. Creators can now choose from 20 price points, ranging from $0.49 that can be increased to as much as $150.
6. Apple's Self-Service Program Ensures Consumers' Right To Repair (Vox)
Apple introduces a Self-service repair program in response to activist pressure from the Federal Trade Commission to ensure everyone has the "right to repair" their own products. Under this new program, Apple will send the parts and tools necessary for iPhone repairs to anyone who asks. Apple will make 200 parts available to consumers for repairs.
7. Tidal Launches User-Centric Payment Model For US Audience (Billboard)
The Norwegian subscription-based music, podcast, and video streaming service Tidal is launching a free tier in the US with a user-centric payment model, where fans can pay directly to their favorite artists. Tidal will now have three tiers and 10% of the subscription fee from HiFi Plus users will go to their most listened to artist that month.
8. Bad Robot Collaborating With Spotify For Podcast Production (Deadline)
Bad Robot, an American film, and TV production company, is launching podcast production in association with Spotify. It has struck a multi-year, exclusive deal to develop and produce original scripted and non-scripted podcasts, as a podcast is a go-to destination for entertainment, education, and discovery, according to Co-CEO JJ Abrams.