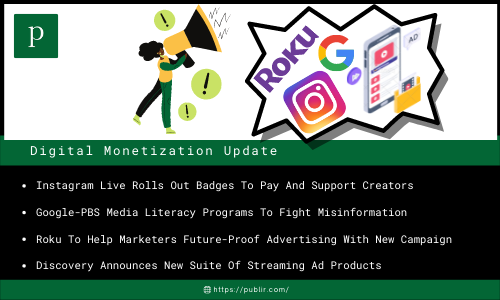 1. Instagram Live Rolls Out Badges To Pay And Support Creators (TheVerge)
Instagram launches its Badges feature, which allows viewers to pay and support Instagram Live creators. Badges come in three levels and cost $0.99, $1.99, or $4.99. They appear as one, two, or three hearts next to a commenter's name during a livestream. Instagram has stated that it will not take a cut of any revenue paid to creators until 2023.
2. Google-PBS Media Literacy Programs To Fight Misinformation (Engadget)
Google has collaborated with PBS Student Report Labs (SRL) and other journalism organizations to improve media literacy among students, educators, and the general public. Google News Initiative and Student Report Labs are developing educational resources to teach young people on how to talk to older family members and friends about misinformation.
3. Roku To Help Marketers Future-Proof Advertising With New Campaign (AdAge)
Roku's new campaign is attempting to entice marketers by demonstrating how to future-proof their advertising. The campaign, which was created in collaboration with R/GA, is Roku's most important advertising effort to date, as well as OneView's initial push as it prepares to advance improvements in practically every aspect of the marketing industry.
4. Discovery Announces New Suite Of Streaming Ad Products (MediaPost)
Discovery Advertising Sales has unveiled a variety of new streaming advertising possibilities, including a one-day sponsorship in which a commercial is displayed as the first thing viewers see on its streaming platform, discovery+. The business, which calls the advertising "Green-Light Ads," did not provide financial information.
5. Most Followed TikTok Accounts Do Not Rank In Top 50 On Others (Axios)
An Axios analysis of the top 50 most-followed accounts on each platform shows that TikTok's top five most-followed accounts are not in the top 50 of any other social media networks. Top TikTok personalities have landed massive Hollywood deals in film, TV, and podcasts despite not having built audiences on other platforms.
6. 69% Twitter Users Rely On Platform For News (PRC)
According to a new Pew Research Center study of 2,548 Twitter users, 23% of Americans use Twitter, and roughly seven out of ten (69%) say they get news on the platform. Only 8% of Twitter users who get news on the platform say it is the most important source of information, while another 59% say it is important but not essential.
7. Snap Launches Multi-Format Ad Delivery (AdExchanger)
Snap said advertisers may now purchase numerous ad format types inside a single ad set, or group of ads, with the same budget allocations, bid type, targeting, and timing. Snap's distribution will be optimized depending on the most efficient placement for each ad inside an ad grouping related to a specific campaign goal. This is a worldwide launch.
8. Twitter Stops Auto-Loading New Tweets On Web (TechCrunch)
When a user's timeline was routinely refreshed, tweets would disappear from view in the middle of a read. Twitter's online timelines will no longer be automatically refreshed with new tweets, and users will be able to choose when they wish to see new tweets by clicking on the tweet counter bar at the top of their timelines.