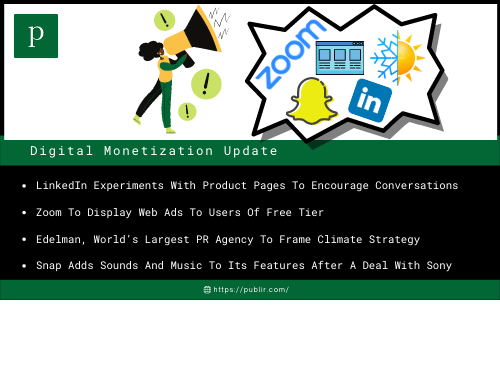 1. LinkedIn Experiments With Product Pages To Encourage Conversations (MediaPost)

LinkedIn is planning to encourage open conversations around business-type products on its platform. It is working with two early beta test ideas to prompt engagement between members and product development teams at brands. There are communities to share ideas and recommendations around travel destinations and not about different products.

2. Zoom To Display Web Ads To Free Tier Users (TheInformation)

Following the pandemic-spurred lockdowns, Zoom became a household name for videoconferencing for companies, families, and business. It is spending over $100 million a year to support its free Zoom version. With the surge in video conference usage, Zoom announced that it would start showing web advertisements to users of free tier soon.

3. Edelman, World's Largest PR Agency To Frame Climate Strategy (AdWeek)

Edelman, the world's largest public relations agency was under fire for working PR campaigns of ExxonMobil that has a consumers' strategy against climate policy in the recent UN summit on Climate change, in Glasgow. Following criticism, the agency declared that it is going to review client's roster to align with a new sustainability strategy.

4. Snap Adds Sounds And Music To Its Features After A Deal With Sony (Variety)

SnapChat has struck a licensing deal with Sony Music Entertainment to make the music of three major labels, including Universal Music Group, Warner Music Group, and many Indies like Kobalt and BMG available on the platform. Snap also planning to add its popular Sounds, allowing users to add song clips to Snaps and Stories, into its AR Lenses.

5. Pew Research Gauges How American Adults Consume News On Twitter (MediaPost)

The Pew Research Center conducted a study on adult Twitter users of the US to understand how they consume news. 53% of users say they have public profiles visible to anyone. While 37% believe the site is mostly good, 38% said it is bad for American democracy. 60% of Republicans and 28% Democrats said the site has a negative impact.

6. Substack Reached 1M Paid Subscribers In Q3 (FT)

Newsletter start-up Substack has announced that it reached 1 million paying subscribers in Q3 from 250,000 last December. The top 10 writers on Substack have made more than $20m in revenue a year, far in excess of typical newsroom salaries. Most writers on Substack still offer their newsletters for free and are not getting enough to meet their living.

7. TikTok's Text-To-Voice Feature Failed To Censor Phrases (Variety)

TikTok added Rocket's voice to TikTok's text-to-speech feature as part of a Disney Plus Day promotion last week. TikTok announced that this would prevent uttering words like "gay," "lesbian," or "queer" aloud. In practice, it is not happening after a test run and TikTok is yet to react to it.