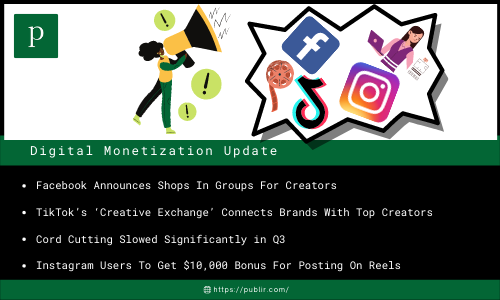 1. Facebook Announces Shops In Groups For Creators (NewsBreak)
Facebook is testing out live shopping with creators and rolling out several new group-focused services just in time for the holidays. Group admins can use Shops in Groups to create an online store on their affiliated Facebook Page. It had previously announced plans for group monetization capabilities such as shops, fundraisers, and subscriptions.
2. TikTok's 'Creative Exchange' Connects Brands With Top Creators (SMT)
TikTok has added an option to support more brand/creator relationships with the launch of a new 'Creative Exchange' platform, which will allow brands to propose a campaign brief, to which creators may reply and negotiate sponsored content arrangements. The first phase of Creative Exchange is currently available to a select group of advertisers.
3. Cord Cutting Slowed Significantly in Q3 (MediaPost)
The third quarter appears to have seen a significant slowdown in cord cutting. According to a new analysis by Wells Fargo analyst Steven Cahall, total Q3 pay-TV subscriptions fell by only 105,000 compared to Q2. Last week, Disney's stock fell on slower growth for its DTC services, while Netflix saw negligible membership growth in the US and Canada.
4. Instagram Users To Get $10,000 Bonus For Posting On Reels (9To5Mac)
Instagram has been struggling to stay relevant in the face of competition as TikTok has grown significantly and has already topped 1 billion monthly active users. As part of the Reels Play bonus program, creators may now earn up to $10,000 by submitting these short videos called "Reels."
5. Majority Of Americans Think Social Media Affects Mental Health (MediaPost)
According to a new survey of online therapy directory service, 58% of Americans have suffered poor mental health effects by using social media. Only 25% of those polled by OnlineTherapy.com stated social media has had no detrimental impact on their mental health, while 10% said they were unsure and 7% indicated they do not use it at all.
6. TikTok Adds Text-To-Speech Voices To Disney Characters (Variety)
Disney announced a partnership with TikTok as part of its Disney Plus Day festivities, allowing TikTok users to contribute text-to-speech sounds from iconic characters from its Star Wars, Marvel, and Disney Animation brands. The new cooperation with TikTok follows the recent introduction of an official TikTok account by Disney Plus.
7. Apple Unveils Business Essentials Suite For Small Businesses (TheVerge)
Apple launches Business Essentials, a subscription package for small companies with three distinct options, in line with Apple's recent turn toward selling services. It may cover employees across a single device, several devices, or a more costly plan that covers multiple devices and adds extra cloud storage for as little as $2.99 per device per month.