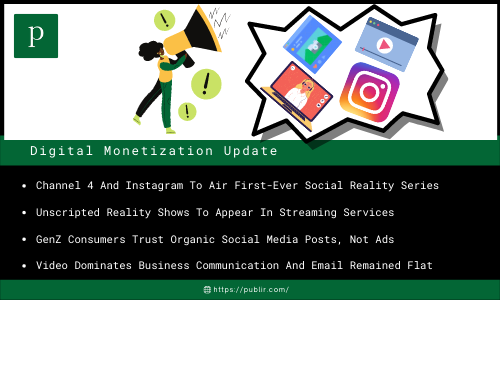 1. Channel 4 And Instagram To Air First-Ever Social Reality Series (Campaign)

The UK-based Channel 4, a free-to-air public-service television network has tied up with Instagram to produce the world's first-ever real-time social reality series. Channel 4's branded entertainment team has produced this show, called "You Do You", which will soon be broadcast on Instagram via Channel 4's Reels, Stories, and videos.

2. Unscripted Reality Shows To Appear In Streaming Services (Bloomberg)

Popular streaming services want to hold subscribers with longtime broadcast TV stuff like unscripted reality shows and documentaries. Brent Montgomery, a producer of popular reality series "Pawn Stars", has created an unscripted series for Netflix that would take viewers into hawking baseball cards, signed jerseys, and movie props.

3. GenZ Consumers Trust Organic Social Media Posts, Not Ads (MediaPost)

According to a Model B study, Social media is the most popular channel for brand communications among younger generations, with 56% of 18- to-24-year-olds and 55% of 25- to-34-year-olds enjoying hearing from brands through social media posts, but not ads. YouTube tops the position (33%) followed by Instagram (32%), Snapchat (30%), and TikTok (28%).

4. Video Dominates Business Communication And Email Remained Flat (MediaPost)

According to Vonage's 10th Global Customer Engagement Report, there is a 47% increase in the usage of video, chatbots, and non-SMS messaging apps for customer communication and 87% expect to maintain this level of interaction for the next 6-12 months. While email usage remained flat, messaging apps usage increased by 34% in North America.

5. ByteDance's Music App Resso To Target Global Market (TheInformation)

ByteDance, the owner of social media app TikTok, was successful in challenging the Facebook and YouTube domination in video formats and was unable to make an impact on areas like news, work collaboration, and social networking. ByteDance is planning to expand its Resso music-streaming service to overseas markets to compete with Spotify and Apple music.

6. US CTV Advertising To Grow 60% In 2021 (EMarketer)

According to Insider Intelligence forecast, CTV ad spending will reach $14.44 billion this year, up 59.9% from 2020. Increased ad inventory, launch, and expansion of new ad-supported streaming services, rise in CTV ad prices have contributed to this growth. Hulu gets $3.13 billion in 2021, followed by YouTube ($2.54 billion), and Roku ($1.58 billion).

7. Amazon Allows Viewers To Make Video Clips From Prime Content (TheVerge)

Amazon has announced that it will let users share video clips up to 30 seconds from some of its Prime Video content. This video-sharing feature on iOS devices allows a viewer to tap the Share Clip button that appears alongside the other controls to create video from shows like "The Wilds" and share through Apple's built-in sharing feature.

8. Video Game Brand Atari Enters Gaming Space On Its 50th Anniversary (AdWeek)

Atari, a legacy video game brand of 1972, has lost its relevance with the rise of power platforms like Nintendo, Microsoft's Xbox, and Sony's Playstation. Atari now aims to enter into the gaming space with a new logo, on the eve of its 50th anniversary this year by launching a recharged game series for PC and console for modern players and hardware.