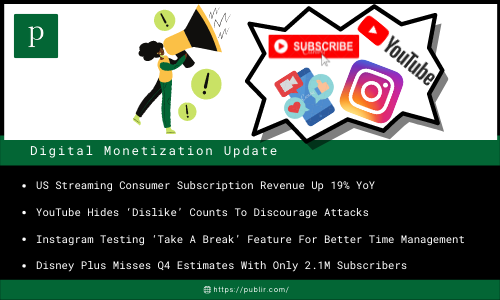 1. US Streaming Consumer Subscription Revenue Up 19% YoY (MediaPost)
According to Digital Entertainment Group, with statistics collected by Omdia, US streaming consumer subscription income increased 19% year on year to $18.5 billion during the first nine months of 2021. Streaming revenues are the only area of home entertainment consumer expenditure that has increased this year.
2. YouTube Hides 'Dislike' Counts To Discourage Attacks (BloombergQuint)
In an effort to make the site more hospitable to creators, YouTube will no longer show the number of "dislikes" on videos. Viewers frequently use the option to harass some creators, and poor engagement metrics result in the platform's algorithm promoting them less. YouTube claims that hiding the display count reduced this practice during testing.
3. Instagram Testing 'Take A Break' Feature For Better Time Management (AdAge)
Instagram is testing a feature called "Take a Break," which will send users of the social media app a notification when they spend a set amount of time on the Meta Platforms Inc. service. "Take a moment to reset by exiting Instagram," a preview of the service states, suggesting users to "take a few deep breaths" or "write down what you're thinking."
4. Disney Plus Misses Q4 Estimates With Only 2.1M Subscribers (Variety)
In the most recent quarter, Disney Plus slammed on the brakes, garnering 2.1 million users — the streamer's weakest growth since its inception two years ago. According to the company's fiscal Q4 2021 figures, as of October 2, Disney Plus had 118.1 million paying customers globally, up from 116 million at the end of the previous quarter.
5. Vimeo Set To Acquire WIREWAX And Wibbitz (PRNewswire)
Vimeo is all set to acquire WIREWAX, a pioneer in interactive and shoppable video, and Wibbitz, a prominent business video creation suite. The two firms will add exclusive technologies and products to Vimeo's all-in-one video solution, enhancing the company's position as the professional video software solution for any business.
6. Spotify Will Now Allow To Block Other Users (TheVerge)
Spotify is introducing a new tool that will make it easier for users to ban others on the site. Previously, customers had to contact customer service to block someone, but the feature is now more easily accessible on a user profile. According to Spotify, the update will be accessible to users this week.
7. ViacomCBS Announces New Global Deal With Twitter (TechCrunch)
Twitter and ViacomCBS have announced a global partnership that will see Twitter broadcast digital content from the ViacomCBS portfolio of news, sports, and entertainment brands, including live events, TV programs, and other franchises. Furthermore, ViacomCBS-owned streaming service Paramount+ will hold three "Twitter Watch Parties".
8. Facebook's Work App Workplace To Collaborate With Microsoft Teams (Reuters)
Workplace, Facebook's work-focused version of the social app, will be integrated with Microsoft Teams, allowing users to share information more easily across the two platforms. Users will be able to share content from Workplace's newsfeed and groups into Microsoft's Teams. Users will soon be able to broadcast video into Workplace groups via Teams.