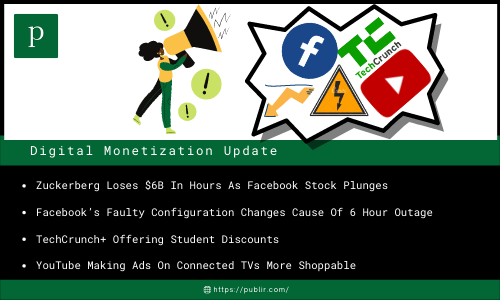 1. Zuckerberg Loses $6B In Hours As Facebook Stock Plunges (Bloomberg)
After a whistleblower came out and disruptions knocked Facebook's programs down, Mark Zuckerberg's personal worth fell by more than $6 billion in a few hours, pushing him down a rung on the list of the world's richest people. The shares of the social media giant fell 4.9% on Monday, adding to a decline of roughly 15%, since mid-September.
2. Facebook's Faulty Configuration Changes Cause Of 6 Hour Outage (Reuters)
Facebook attributed a nearly six-hour outage on Monday to a "faulty configuration change," preventing the company's 3.5 billion users from accessing social media and messaging services, including WhatsApp, Instagram, and Messenger. In a late Monday blog post, the firm did not say who made the configuration modification or whether it was planned.
3. TechCrunch+ Offering Student Discounts (TechCrunch)
TechCrunch+ is offering a discounted access of its services for students at the rate of $50/year, which is inclusive of taxes. If a student group, such as an entrepreneurial club, is interested in obtaining access for a big number of members, TechCrunch+ offers special discounts for large groups as well.
4. YouTube Making Ads On Connected TVs More Shoppable (AdWeek)
YouTube said on Monday that it will expand its video action campaigns to connected television platforms, making its advertisements more shoppable on those platforms. With CTV joining the mix on Monday, video action campaigns integrate inventory from across Google and YouTube video partners.
5. AVOD Service Xumo Serves Up Movies With No Ads (MediaPost)
Comcast's Xumo, a free ad-supported video-on-demand (AVOD) streaming service, now has an "Ad-Free Movie of the Week." According to the streaming site, it is the first AVOD to deliver ad-free movies. The ad-free movies boosted frequency of usage and sessions per user in Xumo testing of the service with Comcast Xfinity X1 subscribers in August.
6. YouTube Music Gets Free Background Playback In Canada (TheVerge)
Google announced on Monday that starting November 3rd, YouTube users of Canada can listen to music in the background, even when they are working on their phones and are off-screen. This feature was previously available to Premium subscribers only but now YouTube is extending it to all, free of charge.
7. ByteDance To Take On Amazon, Alibaba With Global ECommerce (AdExchanger)
ByteDance is developing its own global eCommerce platform in order to compete with Amazon and Alibaba. The firm intends to expand its online purchasing platform beyond China, which may be launched as a standalone app or integrated into TikTok. TikTok made its first foray into eCommerce with a global partnership agreement with Shopify a year ago.
8. CEO Carlos Watson Declares Ozy Media Will Not Shut Down (Variety)
Ozy Media, the media and entertainment business accused of misleading investors and marketers, has changed its mind and will not shut down, according to CEO Carlos Watson. The New York Times initially reported on Ozy's dubious methods on September 26, setting off a cascade of additional revelations, including claims of a toxic working atmosphere.