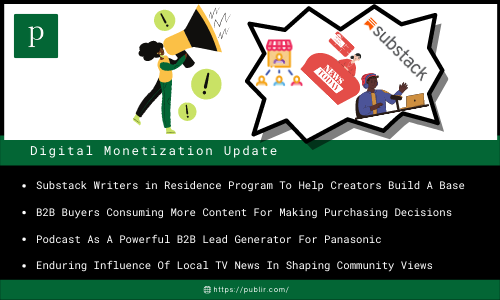 1. Substack Writers in Residence Program To Help Creators Build A Base (Axios)

Substack is launching a "Writer in Residence" program that helps new creators throughout their journey in building a reader's/subscriber's base in Substack. As per Hanne Winarsky, Head of Writer Development at Substack, this program provides creators and readers with a person to learn from, as they launch a new project from scratch.

2. B2B Buyers Consuming More Content For Making Purchasing Decisions (MediaPost)

B2B buyers of the US and the UK are searching and consuming more content before making any purchasing decisions, according to a durhamlane-Cyance study. Of the 80 buyers that polled, 50% are consuming and marketing more content than they did before 2020 and 60% of buyers find it helpful to receive relevant information throughout the buying journey.

3. Podcast As A Powerful B2B Lead Generator For Panasonic (AdExchanger)

Panasonic launched a pre-COVID podcast titled "The Big Rethink", with a view to engage its B2B customers, involving a lengthy sales cycle. There was an increase in traffic and decrease in bounce rates. Panasonic podcasts were successful because they did not focus on company publicity, but catered to topics of listener's interest.

4. Enduring Influence Of Local TV News In Shaping Community Views (NiemanLabs)

According to a Reuters Institute report, based on a YouGov survey of over 92,000 news consumers, local TV news is the most trusted source for Americans on local politics, coronavirus information, and weather forecasts. Local TV news is shaping public opinion on national issues of the viewers at the community level.

5. Twitch Testing A Feature To Let Viewers Pay For Streamers (TheVerge)

Twitch is experimenting with a new feature that lets users pay to promote a stream. For 10 minutes during a stream, a pop-up will appear for viewers to choose from two purchase tiers: 1,000 recommendations for .99 cents and 3,000 recommendations for $2.97. This boost purchase window occurs randomly every time a streamer goes live.

6. Xbox To Place Product Tags For Gamers With Disabilities (TheVerge)

Players with disabilities often have to research to figure out suitable games they can play, which is frustrating for them. Starting 1st October, Microsoft-owned video gaming brand Xbox displays accessibility information for games so that players with disabilities can make sure games have the features they need before buying or downloading them.

7. NW Arkansas Campaigning To Make It A Destination For Relocation (MediaPost)

The Northwest Arkansas Council has launched an effort to attract tech, creative, and other talented employees to the state. Instead of promoting it as a tourist spot, it is featuring Fortune 500 companies, startups, biking, aviation, art, and food of NW Arkansas in a campaign to promote it as a destination choice for relocation.