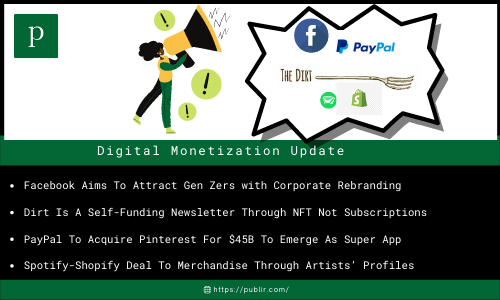 1. Facebook Aims To Attract Gen Zers with Corporate Rebranding (Platformer)

Facebook is thinking of a corporate rebranding with a new name soon. Apart from a series of controversies it sparked since 2016, it has fewer political allies today than it has ever and according to Facebook, the younger generation finds its products less attractive than their parents did. It aims to build a virtual world of metaverse to appease kids.

2. Dirt Is A Self-Funding Newsletter Through NFT Not Subscriptions (NiemanLab)

Writers Daisy Alioto and Kyle Chayka, known for their works on aesthetics and the internet, are publishing a Substack newsletter, Dirt, which focuses on how life was affected by increased Internet use. This free newsletter pays $500 to writers for contributing 500 words and funds itself by selling NFTs. Readers can sell NFTs and make money.

3. PayPal To Acquire Pinterest For $45B To Emerge As Super App (Bloomberg)

PayPal Holdings, the payment company has approached the social media platform, Pinterest for a $45 billion acquisition deal. This biggest-ever technology deal of the year, if materialized, will elevate PayPal as a "super app." Pinterest's stock, which dropped 16% this year, is up over 10%, ever since the acquisition rumors are circulating around.

4. Spotify-Shopify Deal To Merchandise Through Artists' Profiles (Variety)

Spotify, the audio-streaming giant made a new partnership with eCommerce provider Shopify to let artists list merchandise directly on their profiles. Spotify users can see featured product listings from Shopify merchandise. This will be visible to Spotify listeners of the US, Canada, Australia, New Zealand, and the UK, during the beta period.

5. TikTok Honors Top Creators Projecting A Discover List (MediaPost)

TikTok features a new Discover List, "Creators to watch, just for you." It features 50 TikTok stars in five different categories: Changemakers, Icons, Innovators, Foodies, and Originators. TikTok aims to honor the hard work and the passion the creators put into the content, giving credit to originators of viral trends to strengthen the community.

6. Pinterest Adds Short Video Features Similar To TikTok (CNET)

Pinterest adds a new tab to its home feed, called Watch that displays short videos similar to the TikTok feed. The Watch feed highlights content shared through "Idea Pins," and allows users to add multiple images, videos, lists, and text to one Pin. Another tab called Browse, displays several images and videos and resembles Pinterest's current feed.

7. Twitter Partners With Variety To Promote TV Charts And Shows (Variety)

In a unique and first-of-its-kind deal, Twitter has agreed to display the three trending TV charts of Variety, an American media company. Twitter will detail the top 10 programs that are organically sparkling up on the social platform. It analyzes the top three shows and provides a heat map of the most resonating shows across the country.

8. Facebook's Poignant Portal Campaigns Are Connecting Generations (AdWeek)

Facebook is banking on emotional intelligence to promote its new video calling device portals, "Portal Go" and "Portal+" in the UK. Roughly 2 million grandparents can meet their grandchildren only once a year. Facebook campaigns are painting an image of connecting families by depicting a grandfather, meeting his granddaughter virtually.