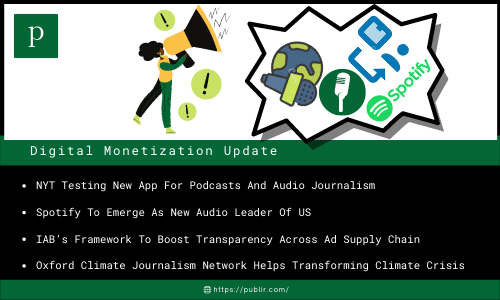 1. NYT Testing New App For Podcasts And Audio Journalism (Bloomberg)
NYT is testing a new app called "New York Times Audio" for its podcasts and audio versions of news and stories from other sources published on NYT. Starting Tuesday, the Times will test a beta version of the app that brings together the company's audio journalism, creating a single destination for listeners of its podcasts and other products.
2. Spotify To Emerge As New Audio Leader Of US (EMarketer)
Spotify with 83.1 million listeners may soon emerge as the leader of the US audio, as it is enjoying the highest number of paid subscribers, followed by Pandora, Amazon, and Apple Music. Spotify has acquired several audio companies to increase its base and striking deals with celebrities, like former president Barack Obama, as hosts.
3. IAB's Framework To Boost Transparency Across Ad Supply Chain (MediaPost)
In the wake of the ad industry's transition to the cookies-less world, IAB Tech Lab, the digital advertising technical standards body, has released id-sources.json, a broader framework to boost transparency around the use of ID solutions. The id-sources.json standard will be available for public comment until November 12.
4. Oxford Climate Journalism Network Helps Transforming Climate Crisis (RISJ)
The Reuters Institute for the Study of Journalism is launching the Oxford Climate Journalism Network, a project to help journalists and newsroom leaders to transform the way they cover the climate crisis. This is a unique opportunity for participating journalists and their organizations to strengthen their competencies to cover climate change.
5. Netflix's Squid Game Sets Record For 111M Views In First 17 Days (TheVerge)
Netflix's popular series Squid Game is its biggest title since its launch. This survival thriller reached 111 million global accounts in its first 17 days on the service. Squid Game is also its first series to surpass 100 million in its first 28 days. Netflix typically uses 28-day windows to measure the performance of a title on its platform.
6. GlaxoSmithKlein Used Emotional Tracking To Promote Arthritis Drug (AdWeek)
Instead of projecting arthritis affected in action after using a drug in ads, GlaxoSmithKlein engaged System One, a London-based platform to track the emotional reactions of the ad viewers each second to prepare creatives to promote its pharmaceutical products. Titled "More Than Movement", it received the highest score to date across the globe.
7. Fujifilm Launches Wide-Format Version Instax Link Mobile Printer (TheVerge)
Fujifilm has announced a new mobile printer that uses its larger Instax Wide format film. By hooking up a phone over Bluetooth, anybody can edit and print Polaroid-style snapshots from the camera roll. Instax Wide film is much bigger than Instax Mini and compatible with Fujifilm's X-S10 mirrorless camera.