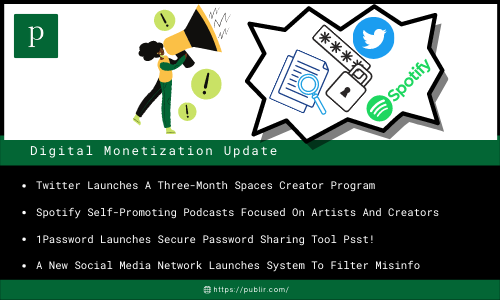 1. Twitter Launches A Three-Month Spaces Creator Program (TechCrunch)
Twitter has announced the introduction of a new creator program for Spaces. Spark is a three-month acceleration program that aims to "discover and reward great Spaces on Twitter with financial, technical, and marketing support." It is open to established Spaces audio series and untested experiments, and it invites audio creators to apply.
2. Spotify Self-Promoting Podcasts Focused On Artists And Creators (Variety)
Spotify has created two original podcasts that point the spotlight on itself. "Spotify: Discover This," which arrives on October 14 will include insights on "music, podcasting, cultural moments, and trends". The other new program, "Spotify: Mic Check," will arrive on October 19 with a focus on creators.
3. 1Password Launches Secure Password Sharing Tool Psst! (TheVerge)
Psst! (Password safe sharing tool), a new link sharing function released by password manager 1Password, makes it easier to exchange passwords with anybody. Psst! makes password sharing more easy, like sharing a Google Doc with someone. You can choose how long the link remains valid, from an hour to 30 days, after which it will automatically expire.
4. A New Social Media Network Launches System To Filter Misinfo (MediaPost)
A new social media network is debuting with a mechanism for screening misinformation already built in. Bright, a new social media network, will launch in the US and UK later this year as part of a contract with NewsGuard, a disinformation grading service endorsed by some of Madison Avenue's major agencies and trading systems.
5. Memberful Debuts Newsletter Feature Taking Only 4.9% Cut (TechCrunch)
Memberful is adding a newsletter feature to its premium membership services. Unlike rival company Substack that takes 10% of creative revenue, it charges 4.9% with a monthly fee of either $25 or $100, depending on the plan. Even with the additional monthly charge, retaining that extra 5.1% of earnings can make a difference for those with a large audience.
6. Facebook Changes The Way It Measures Accounts For Advertisers (AdAge)
Facebook is changing how people are counted for ad measurement across Facebook and Instagram. If a user's Facebook and Instagram profiles are not linked in the company's Account Center, those accounts will be treated as distinct persons for ad planning and measurement. The new modification will be implemented over the following few weeks.
7. Twitter Launches New Ad Features, Revamped Algorithm (Reuters)
As part of an effort to build the basis for future eCommerce services, Twitter has launched new ad features and altered the algorithm that determines which advertisements users view. The new features come as Twitter works to expand its performance advertising business, which accounts for only 15% of Twitter's revenue last year.