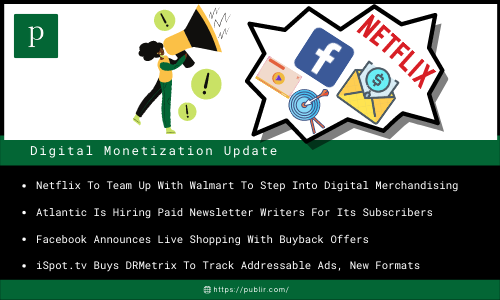 1. Netflix To Team Up With Walmart To Step Into Digital Merchandising (WSJ)

Netflix with over 200 million subscribers, is facing tough competition from Walt Disney and Amazon Prime. Netflix aims to extend its user-base by teaming with Walmart to create a digital storefront on the retailer's website that will sell merchandise tied to its hit shows, such as "Stranger Things" and "Squid Game".

2. Atlantic Is Hiring Paid Newsletter Writers For Its Subscribers (Recode)

While Substack writers are making money away from the mainstream media, publishers are experimenting on building a roster of newsletter writers, by letting selective journalists prepare niche newsletters, exclusively for their subscribers. While NYT has already tried on it, the Atlantic Magazine is launching a newsletter for its subscribers now.

3. Facebook Announces Live Shopping With Buyback Offers (SocialMediaToday)

Ahead of the shopping season, Facebook is expanding its social shopping features with a new series of daily live shopping events, on both Facebook and Instagram, which will showcase the latest gift trends and deals. Combined with limited-time offers, it hosts events for more than a month, featuring SMBs and Black-owned businesses.

4. iSpot.tv Buys DRMetrix To Track Addressable Ads, New Formats (MediaPost)

iSpot.tv has acquired DRMetrix, a real-time TV ad measurement company focused on D2C and direct-response advertisers, to track new formats like addressable ad creative that link ad exposures to digital consumer actions. It also measures in-store traffic across platforms, for iSpot.tv, and cross-platform measurement service for brands.

5. Facebook To Launch App-Based Audio Hub For Its US Audience (TechCrunch)

Facebook is planning to rollout audio initiatives for its US users through its mobile app that allows users to access its entire audio formats, including podcasts, Live Audio Rooms, and short-form audio. While Facebook Audio Rooms are a Clubhouse rival, its Soundbites are a replica of TikTok's short audio clips.

6. Epic Games To Step Into Fortnite Movie Making (TheInformation)

Epic Games, which is engaged in bitter lawsuits with Apple and Google, has launched its video game Fortnite in 2017. It is currently aiming to launch an entertainment division focused on scripted video programming. The division will take up projects, including feature films to be aired based on Fortnite.

7. Google TV To Add Personalized Profiles And Watchlist (TheVerge)

Google TV is adding a watchlist feature and Google Assistant functionality based on the activity of the primary account holder. Using watchlist and Google Assistant responses, it will tailor personalized user profiles based on the user's own interests and activities. This feature is for Chromecast with Google TV and Google TVs from TCL and Sony.