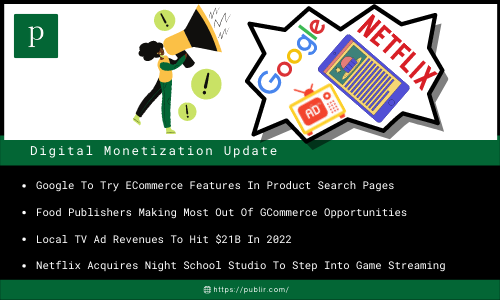 1. Google To Try ECommerce Features In Product Search Pages (WSJ)
Google has been struggling in the battle for billions in eCommerce ad dollars. In a bid to compete with Amazon and win retail advertisers, Google is all set to update the look and format of product search pages. It features images of apparel, accessories, and products to resemble a digital store, rather than a long list of links and text.
2. Food Publishers Making Most Out Of GCommerce Opportunities (Medialyte)
GCommerce is promoting a food media that monetizes every element of the consumers, by catering personalized messages. They are determining the exact location of the customer, the grocery stores surrounding them, and the availability of courier services around them. They are serving recipes based on this info and equally promoting products.
3. Local TV Ad Revenues To Hit $21B In 2022 (MediaPost)
Following a record 2020 political advertising, BIA Advisory Services forecasts the midterm Congressional elections to drive the overall local TV advertising by 27% to $21 billion. It predicts over-the-air local TV to grow 28% to $19.3 billion and the digital ads 11% to $1.7 billion versus 2021 – to $15.1 billion and $1.53 billion, respectively.
4. Netflix Acquires Night School Studio To Step Into Game Streaming (AdWeek)
Netflix is acquiring Night School Studio, a video games studio known for its critically-acclaimed debut, Oxenfree. Night School Studio will create games that will be available for free for Netflix members. Along with films and TV, Netflix now offers a platform for developers to create and deliver excellent entertainment to its viewers.
5. Audio Advertising Transforming Brand Safety: Industry Experts (AdAge)
According to Mainardo de Nardis, the former CEO of OMD Worldwide, podcast advertising currently provides highly effective brand safety measures for pre-produced ad content. Brands and agencies control the content and have the right to decide in which context to appear. Yet, the industry is working hard to find safety solutions for programmatic ads.
6. Mobile Brand EE Created A Robotic Barber To Promote 5G In UK (AdWeek)
EE, one of the four major mobile providers in the UK, created a robot barber to stand apart in a crowded marketplace. To promote 5G in the UK, EE created a robot barber creative that featured actor Tom Ellis in a chair, on top of Mt. Snowdon. The robotic arm, controlled remotely 200 miles away, holds the blade on his neck to promote the idea.
7. Apple Allows Customer Reviews For iPhone And Ipad Apps (9To5Mac)
Due to looming competitive pressure, Apple is allowing iPhone users to rate and review any Apple app that can be deleted and re-installed via the App Store. As the rating and reviewing are quite new, most of the stock apps have a few dozen ratings so far. Everyone with grievances after upgrading to iOS 15 may rush to the App Store with feedback.