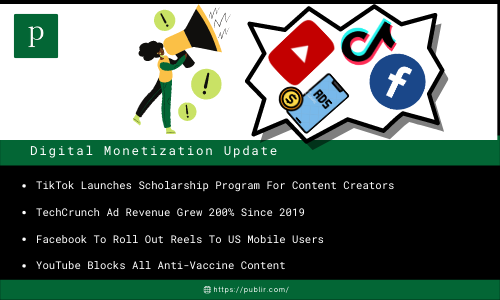 1. TikTok Launches Scholarship Program For Content Creators (MediaPost)
LINK Agency, a TikTok advertising creative wing, has created a "scholarship program" to teach creators in platform optimization. The six-month program will train three "budding 'TikTokers'" in LINK's cutting-edge knowledge. Three winners will be chosen based on the needs, passions, and dedication to the content production of the candidates.
2. TechCrunch Ad Revenue Grew 200% Since 2019 (AdWeek)
TechCrunch's operations team decided in January that all events would be virtual for the rest of the year. Now, the publisher is on course to have its biggest year ever in terms of revenue. Since 2019, TechCrunch's ad income has increased by 200%, and the number of subscribers has almost doubled. The firm refused to give precise statistics.
3. Facebook To Roll Out Reels To US Mobile Users (TechCrunch)
After a month of beta testing, Facebook is now rolling out Reels to all Facebook users in the United States on both iOS and Android. The company is launching a new bonus scheme that will compensate artists when their Reels are viewed. The program will be financed as part of Facebook's $1 billion commitment to creators until 2022.
4. YouTube Blocks All Anti-Vaccine Content (WaPo)
YouTube will now prohibit all anti-vaccine content, expanding its ban on misleading information regarding COVID vaccinations, including disinformation about other authorized vaccines. Channels connected with many famous anti-vaccine campaigners, including Robert F. Kennedy Jr. and Joseph Mercola, have also been banned from the video platform
5. Amazon Launches Its Ad-Supported IMDb TV Streaming Service In UK (Variety)
Amazon has launched the IMDb TV streaming service in the UK, more than two-and-a-half years after its debut in the US. The video-on-demand streaming service owned by Amazon was launched in January 2019. This ad-supported channel was freely accessible within the Amazon Prime Video app since its inception.
6. Twitch Releases New Safety Feature To Fight Against 'Hate Raids' (TheVerge)
Twitch announced that it is rolling out phone-verified chats, a safety feature to help keep harassment, malicious users and hate raids under control. Phone-verified chats will allow targeted creators to have more control over who can participate in their communities. Twitch allows one phone number to associate up to five accounts with it.
7. Amazon And Disney Introduce 'Hey, Disney!' Voice Assistant (MediaPost)
Amazon is bringing another voice assistant to Echo devices created by Disney. The new voice assistant called "Hey, Disney!" is based on Alexa technology. Fans will be able to interact with the assistant through over 1,000 custom interactions, many of which will contain real character voices and original recordings from Disney's vast library.
8. FCC Slaps ViacomCBS With $3.5M Fine Over Pluto TV Closed Captions (Deadline)
ViacomCBS-owned Pluto TV will pay $3.5 million to settle an FCC investigation that found the free, ad-supported video streaming service violated the commission's accessibility rules. Pluto TV agreed to enter into a compliance plan to ensure that non-exempt video programming includes closed captioning in compliance with the agency's rules.