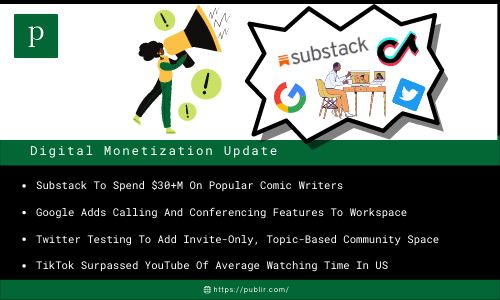 1. Substack To Spend $30+M On Popular Comic Writers (HollywoodReporter)

Substack plans to spend more than $30 million to attract popular Hollywood comic writers to its platform. Star comic writer James Tynion IV of Batman fame, has already left WarnerMedia to join Substack for a $500,000 upfront fee. Authors can hold IP rights over their creations and sell them in the future. This is attracting several others to Substack.

2. Google Adds Calling And Conferencing Features To Workspace (VentureBeat)

Google announced several updates to its cloud computing collaboration tool Workspace, which so far has features like Calendar, Drive, Docs, Sheets, Slides, Meet, and Tasks to engage in topic-based discussions. Google now adds enhanced search, Meet calling, live-translated captions in Meet, and all-in-one video conferencing devices for Meet.

3. Twitter Testing To Add Invite-Only, Topic-Based Community Space (TechCrunch)

Twitter is testing to add a new feature to its platform soon, called "Communities". This feature allows users to join a social community and tweet directly to other people with shared interests, rather than for their regular group of followers. Although the tweets remain open to the public, replies will be limited to the community members alone.

4. TikTok Surpassed YouTube Of Average Watching Time In US (TheVerge)

The US audiences are now spending more time watching TikTok than YouTube, according to app analytics firm, App Annie. As of June 2021, users watched over 24 hours of content per month on TikTok compared to 22 hours and 40 minutes on YouTube. In the UK, users are spending 26 hours with TikTok a month, compared to less than 16 hours on YouTube.

5. A Popular YouTuber Is Shaking Up California Recall Elections (TheVerge)

Paffrath, known as MeetKevin on YouTube, is running California's recall election this month. 29-year-old Paffrath has over 1 million subscribers to his YouTube channel that caters to the financial and cryptocurrency markets. He is the only viable Democrat candidate to contest against Republican Larry Elder, a popular conservative radio talk host.

6. College Athletes Can Monetize Fandom As Influencing Marketers (MediaPost)

The Supreme Court's recent ruling against the NCAA (National College Athletic Association) now allows college athletes to monetize their name, image, and fandom for the first time in history. Although less than 2% of college athletes participate in professional sports, 7% of NCAA revenue will be spent towards athletes' scholarships and stipends.

7. Syte Partnered With Movable Ink For Content This Holiday Season (MediaPost)

Syte, a retail product discovery platform, has partnered with Movable Ink to allow brands to send hyper-personalized emails prior to the holiday shopping season this year. This facilitates dynamic content creation, aligned with business goals to shoot customized campaigns and integrated with Salesforce Marketing Cloud and other platforms.