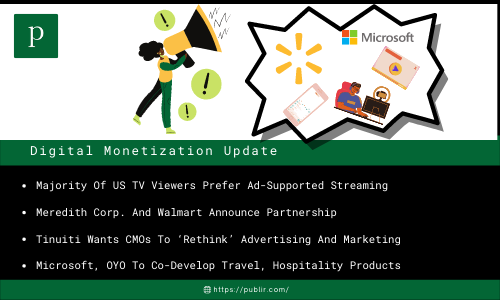 1. Majority Of US TV Viewers Prefer Ad-Supported Streaming (MediaPost)

According to a survey on streaming preferences and viewer behavior conducted by Future Today, which operates several AVOD platforms, and Variety Intelligence Platform, more than half (50.6%) of US consumers prefer using ad-supported video-on-demand (AVOD) services to reduce or eliminate video subscription fees.

2. Meredith Corp. And Walmart Announced Partnership (TheDrum)

Walmart and Meredith announced a partnership as part of which Meredith will launch its first shoppable "bookazine" that pairs recipes with Walmart products. The cross-platform partnership will feature artificial intelligence-powered meal planning, shoppable recipes, visual search, chatbots, and more, to help people plan and make meals.

3. Tinuiti Wants CMOs To 'Rethink' Advertising And Marketing (MediaPost)

Tinuiti, the largest independent performance marketing firm across streaming TV, launched its first-ever digital-first brand campaign. The provocative omnichannel campaign, 'Rethink Performance', challenges CMOs to shift their perspectives around some of industry's most hot-button issues, from data privacy to navigating the walled gardens.

4. Microsoft, OYO To Co-Develop Travel, Hospitality Products (TechCrunch)

Microsoft and hospitality firm OYO have entered a multi-year strategic alliance to co-develop next-gen travel and hospitality products and technologies. As part of this alliance, OYO will develop Smart Room experiences for travelers on the OYO platform, such as premium and customized in-room experiences for its guests, a statement said.

5. Microsoft To Let You Control Your Xbox With A TV Remote (TheVerge)

Microsoft is testing out a feature that lets you navigate the Xbox Dashboard using a TV remote. The feature, which has already rolled out to certain members of the Xbox Insider Program, enables Xbox Series X and Series S users to negotiate media apps like Netflix using an HDMI-CEC remote control.

6. German Court Rules Paid Influencers To Label Posts As Ads (Reuters)

A top German court ruled that social media influencers who are paid by companies to promote their products must explicitly mark their posts as ads. The Federal Court of Justice decided in the instances of three influencers on Instagram that if they are not compensated, they can exhibit the items without the advertising label.

7. Digital Therapeutics Startup Neuroglee Raises $10M (TechCrunch)

Neuroglee Therapeutics, a business that develops digital therapeutics for patients suffering from neurodegenerative diseases, has secured a $10 million Series A round-headed by Openspace Ventures and EDBI. The funds will be used to establish virtual neurology clinics and to help Neuroglee relocate to Boston.