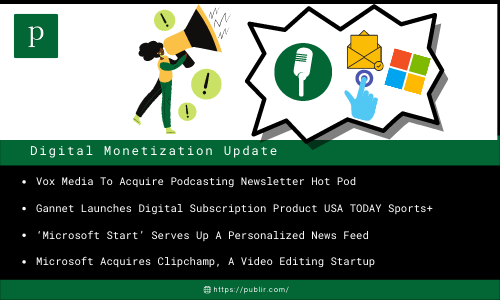 1. Vox Media To Acquire Podcasting Newsletter Hot Pod (Variety)

As part of a drive to extend its technological services, Vox Media is acquiring Hot Pod, an independent news website focusing on podcasting. Hot Pod will be the first paid-subscription product offered by The Verge as part of a partnership with management, hoping to offer a larger portfolio of comparable journalistic concepts in the months ahead.

2. Gannet Launches Digital Subscription Product USA TODAY Sports+ (USAToday)

Gannett Co. announced the launch of USA TODAY Sports+, an all-new premium digital subscription experience. USA TODAY Sports+ enables subscribers to curate and customize their local sports experience with immersive content, including interactive video, audio, and augmented reality features for a stronger connection to their devoted sports teams.

3. 'Microsoft Start' Serves Up A Personalized News Feed (TechCrunch)

Microsoft has announced a new personalized news feed service. The new app and service is called Microsoft Start and is available on iOS, Android, and the web. People already running Microsoft News on iOS and Android will get an app update that refreshes the experience with the new Start design, layout, and icon.

4. Microsoft Acquires Clipchamp, A Video Editing Startup (CNBC)

Microsoft Corp. announced it has acquired video editing platform startup Clipchamp for an undisclosed price. Clipchamp claims to have more than 17 million users across 390,000 companies who create videos using their browser-based tools. It has thrived during the COVID-19 pandemic with 54% year-over-year revenue growth.

5. Twitter Is Testing An Edge-To-Edge Tweets Feature On iOS (TheVerge)

Twitter announced that it has started testing out new "edge-to-edge" Tweets. Twitter's new timeline design for iOS stretches out photos, videos, and GIFs to fill the whole screen. This update effectively offers Twitter for iOS, an edge-to-edge design that eliminates the side margins and the need to click on a photo to see it in full-screen mode.

6. FB Advertisers Struggle To Track Sales After Apple Privacy Changes (AdAge)

Apple's stringent data policy is making it harder for Facebook advertisers to track even the most basic research metrics, such as determining if a customer who viewed an ad was the same person who made a purchase. According to advertisers, the system's fuzziness stems from more than one problem disclosed by Facebook last week.

7. Hulu Hikes Its Monthly Prices By $1 In October (Variety)

Hulu will raise the price for its two on-demand plans from October 8. The ad-supported version of Hulu will increase from $5.99 to $6.99 per month, while Hulu with No Ads will increase from $11.99 to $12.99 per month. This will apply to both existing and new subscribers. Hulu is offered with Disney+ and ESPN+ for $13.99 per month.