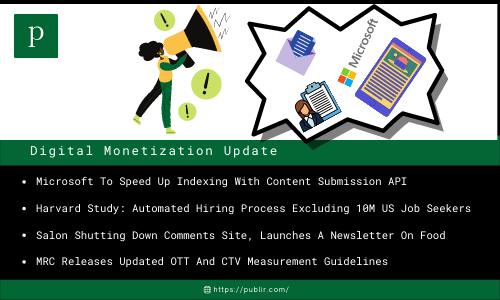 1. Microsoft To Speed Up Indexing With Content Submission API (MediaPost)

Microsoft Bing places its content submission API open for all. It uses fewer lines of code to index web page content, making page updates faster in search-query results. This API enables webmasters to notify Bing directly about the changes in the web content and allows marketers to submit a URL, content, images, and HTML directly to Bing's index.

2. Harvard Study: Automated Hiring Process Excluding 10M US Job Seekers (WSJ)

Although companies are desperate to hire, many job seekers cannot find jobs in the US, says a new Harvard Business School study. Employer's increased levels of automation to fill vacancies, by deploying software for sourcing candidates and managing the application process is excluding more than 10 million workers from hiring discussions.

3. Salon Shutting Down Comments Site, Launches A Newsletter On Food (DigiDay)

The salon is shutting down its comments section for good as its users failed to turn to it. Started as a virtual channel to talk, it had 10 million active monthly users. Salon's email newsletter gathered strength with enhanced open rates from 16% to 32% and it is launching a new weekly food newsletter, "The Bite" in September.

4. MRC Releases Updated OTT And CTV Measurement Guidelines (MediaPost)

The Media Rating Council (MRC) has issued its guidelines and the best practices for measuring OTT and CTV viewing when server-side ad insertion (SSAI) digital video techniques are utilized. Following a public comments period, the updates will become its official and current measurement guidance for the burgeoning OTT/CTV advertising marketplace.

5. North American Movie Theatres Yet To Recover From Pandemic And OTT (NYT)

North American movie theaters have sold only $2.2 billion in tickets so far this year, compared with $7.8 billion for the same period in 2019, according to Comscore, which collects ticketing data. While many theaters were closed in 2020, due to the pandemic, new releases are bypassing theaters and debuting directly on OTT.

6. Home Depot's Smart Home App Offers Convenience And Affordability (TheVerge)

Home Depot has launched a smart home app that manages all smart appliances and accessories it sells. The company claims it as an easy-to-install and convenient solution that benefits Smart Home products available to anyone with a smart device and an internet connection, with no hub necessary and at an affordable price.

7. Hellion Dog Adoption Site Drives Valuable Lessons To Marketers (AdAge)

Christine Clauder, a former social media manager and marketing director launched a website in July, pleading dog lovers to adopt her "hellion" foster dog Hank. She wielded her word power with wit, humor, and honesty that outsized people's attention. It not only made Hank very popular in Huston but also secured Clauder freelancing job opportunities.