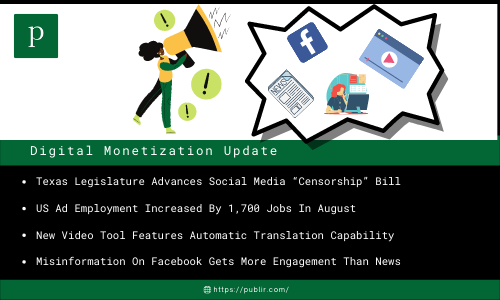 1. Texas Legislature Advances Social Media "Censorship" Bill (MediaPost)

Lawmakers in Texas have passed a bill that would make it unlawful for social media companies with more than 50 million users, like Facebook and Twitter, to censor users and content based on political views or geographic location. This includes moderation actions like banning, deplatforming, or demonetizing users and removing posts.

2. US Ad Employment Increased By 1,700 Jobs In August (AdAge)

In July, ad agency staffing grew at a record pace, but growth slowed in August. 1,700 jobs were added to the advertising, public relations, and related services in August, a moderate increase when overall employment in the US grew at a slower pace since January. In terms of the broader economy, US companies gained 235,000 jobs in August.

3. New Video Tool Features Automatic Translation Capability (MediaPost)

Videocommerce, a Polish company, has launched a SaaS platform that will allow companies to engage customers with personalized dynamic videos. Users may upload Google Slides and create presentations using a drag-and-drop mechanism. Marketers may also customize videos and have them instantly translated into the person's native tongue.

4. Misinformation On Facebook Gets More Engagement Than News (TheVerge)

A US survey shows misinformation got six times more clicks than factual news. Between August 2020 and January 2021, the research looked at posts from more than 2,500 Facebook accounts of news publishers. Researchers discovered that pages that publish more disinformation receive more likes, shares, and comments on a regular basis.

5. Apple Delays Controversial Child Safety Features After Criticism (Reuters)

After a lot of criticism of the system on privacy and other grounds, Apple said it will need more time to collect inputs and improve planned child safety features. Apple's pledge to screen phones and computers for images of child sex abuse triggered a global outcry from a wide variety of rights groups, as well as internal criticism of the idea.

6. Germany Wants Phone Makers To Offer 7 Years Of Security Updates (Engadget)

Smartphone producers should be required to provide security patches and spare parts for their phones and other devices for seven years, according to a proposal from the German government to the European Union. While the European Commission is working to push device vendors into offering parts and support for 5 years, Germany wants more to be done.

7. Dukaan Raises $11M Helping Merchants Set Up Online Stores (TechCrunch)

Dukaan, a Bangalore-based startup that enables merchants to set up online stores and sell products digitally in India, has raised $11 million in a pre-Series A funding round led by US-based 640 Oxford Ventures. Digitization of small businesses has attracted a lot of attention from investors, techies, and entrepreneurs following the pandemic.