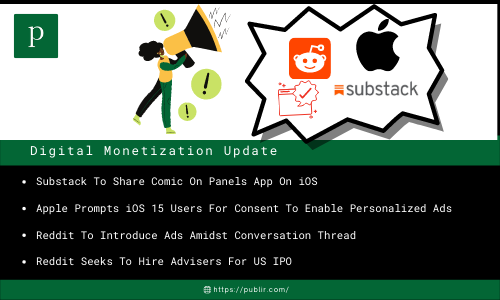 1. Substack To Share Comic On Panels App On iOS (Flipboard)

Substack announced that comics creators' work published on Substack will soon be available on the leading iOS comic reader, Panels. Popular comic creators, including Jonathan Hickman, Mike Huddlestone, and Mike Del Mundo are sharing their works as email newsletters so far to their subscribers through this platform.

2. Apple Prompts iOS 15 Users For Consent To Enable Personalized Ads (9To5Mac)

Apple will start asking for permission to enable personalized ads in iOS 15, the company's method of serving relevant ads in the App Store and Apple News by analyzing what you read, purchase, and search for on your device. The company used to collect that information by default, but now it plans to ask for permission.

3. Reddit To Introduce Ads Amidst Conversation Thread (AdAge)

Reddit plans to connect advertisers to consumers while they are engaged in conversations with a new ad placement that sits within a conversation thread. Reddit is a conversation platform, whose users contribute more than 350,000 conversations every day and spend about 42% of their time on its conversation thread.

4. Reddit Seeks To Hire Advisers For US IPO (Reuters)

Reddit, which became the go-to site for day traders pursuing this year's craze for so-called meme stocks, is looking to engage investment bankers and attorneys for an IPO in New York. In a private financing round last month, Reddit was valued at $10 billion. Reddit expects to be worth more than $15 billion by the time it goes public early next year.

5. Twitter Testing To Add More Privacy Features To Expand Audience (AdAge)

Twitter is planning to test new privacy-related features to give its users greater control over their follower lists. This will let Twitter users regulate people to get access to their posts and likes. This is an effort to make people feel more comfortable while they interact and share their views on the social network.

6. Twitch Viewership May Drop By 15% After Streamer's Protest (TheVerge)

On September 1st, Twitch streamers took a day off to draw attention to the ongoing hate raids that have plagued the site in recent weeks. Twitch experienced a reduction in viewing, according to statistics gathered by Gamesight, a gaming analytics company. It is possible that the influence may have been as little as 5% or as high as 15%.

7. Over 50% Consumers Bought Fake Products Online (MediaPost)

A Red Points poll shows that 56% of consumers believe they have purchased a fake item during the holidays and another 40% believe that bands are responsible for not being able to remove fakes from online channels. The leading channels contributing to buying fakes were social media (35%), the marketplace (25%), and eCommerce (17%).