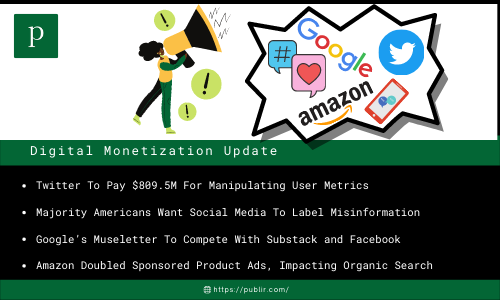 1. Twitter To Pay $809.5M For Manipulating User Metrics (TheInformation)

Twitter has agreed to pay $809.5 million to a shareholder to settle a lawsuit that alleged Twitter's top executives misleading investors with overly optimistic user growth. The lawsuit alleged the then Twitter CFO Anthony Noto's statement that the platform attained 550 million active users in 2014, was a false projection, not achieved till date.

2. Majority Americans Want Social Media To Label Misinformation (NorthEastern)

According to a Northeastern study, 92.1% of liberals, 60.1% of conservatives, and 78.4% of moderates "strongly agree" that social media platforms should use labels to inform users about posts that contain misleading information. They prefer labels that warn users about potentially harmful posts or graphics.

3. Google's Museletter To Compete With Substack and Facebook (MediaPost)

Google will launch a free email newsletter called 'Museletter' soon. It allows writers to create a public profile for their Google Drive and publish content directly, offering subscriptions. Google plans to build premium features like customer domains, welcome emails, community features, engagement analytics, and other tools.

4. Amazon Doubled Sponsored Product Ads, Impacting Organic Search (CNBC)

According to digital marketing agency Merkle, 73% of retailers' ad spend on Amazon was on sponsored product ads in Q2 of 2021 and Amazon is planning to add more sponsored product ads to the top of search results. The only way to appear in search results on Amazon is to buy a space, as organic search results are downplayed.

5. Amazon, Apple, And Netflix Topped 2021 Loyalty Ranking (MediaPost)

Brand Keys' annual loyalty ranking projected Amazon as No.1 online retailer, while its streaming video secured 5th rank. Apple is in 2nd rank, followed by Netflix, and Domino's Pizza. Disney+, Google, WhatsApp, Instagram, and Nike have made their place among the top ten and TikTok has made its way into the top 25.

6. Federal Tax Laws To Limit Amazon Career Choice Programs (Protocol)

Amazon announced several up-skilling programs to lure workforce in an extremely tight labor market, including full fee reimbursement of its employees, up to bachelor's degree, while providing hourly access to new joiners to learn while earning. It is difficult to practice them as federal taxes limit tuition reimbursements to just over $5,000.

7. OpenSea Launches An NFT App For Android And iOS Users (TheVerge)

OpenSea, one of the most popular NFT marketplaces, has launched its first app for iOS and Android that allows OpenSea users to view the platform's collection of digital items, but does not allow them to buy. It serves more as a gallery that allows users to browse artwork, share listings, and manage NFTs they own.