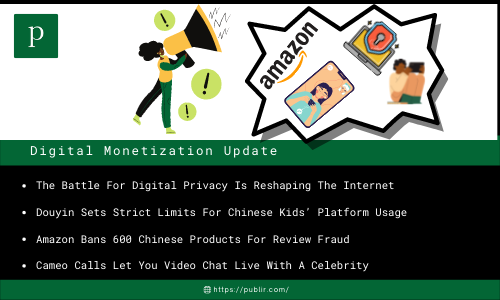 1. The Battle For Digital Privacy Is Reshaping The Internet (NYT)

Media companies, publishers, and small businesses are all changing their income models as personal data and cookies are phased out of digital advertising. As a result, a $350 billion digital advertising business is being dismantled. There is a lookout for alternatives if personal information is no longer a currency for online content and services.

2. Douyin Sets Strict Limits For Chinese Kids' Platform Usage (TheVerge)

Users under the age of 14 will be limited to 40 minutes a day on the Chinese version of the popular short video app TikTok, known as Douyin. Teens will be able to use Douyin between the hours of 6 a.m. and 10 p.m., but will not be able to use the app outside of that time frame due to the Chinese government's new limits on video game access.

3. Amazon Bans 600 Chinese Products For Review Fraud (Engadget)

Amazon has permanently banned 600 Chinese brands on the basis of review fraud, stating that the ban affects up to 3000 distinct seller accounts. The 600 businesses that have faced the company's wrath have done so because they have intentionally and repeatedly violated Amazon's standards, notably those concerning review abuse.

4. Cameo Calls Let You Video Chat Live With A Celebrity (AdWeek)

Cameo Calls, a new service on the personalized video messaging platform Cameo, allows fans to engage one-on-one with their favorite influencers and celebrities for 15-minutes. The talent determines the length, time, and cost of their call, which Cameo estimates averages approximately $31.

5. India Antitrust Probe Finds Google Abused Android Dominance (TechCrunch)

Google abused the dominant position of its Android operating system in India, using its "huge financial muscle" to illegally suppress competitors, a report found on its two-year probe. The report also found issues with the way Google has enforced policies on the Play Store that are "one-sided, ambiguous, vague, biased, and arbitrary."

6. WarnerMedia Introduces A 50% Off Deal For HBO Max (Variety)

HBO subscriptions through Amazon Prime Video Channels were officially discontinued on September 15th. Those who accessed HBO via Prime Video Channels — as well as all new and returning HBO Max members in the United States — can sign up for the premium HBO Max ad-free monthly plan at a 50% discount starting Friday.

7. Americans Sustain Higher Levels Of Post-Pandemic Media Usage (MediaPost)

According to the findings of Mindshare's ongoing COVID-19 monitoring research, the percentage of Americans who report spending more time with various media than they did before the pandemic is still high, although it has decreased significantly from the peak stay-at-home period last year.