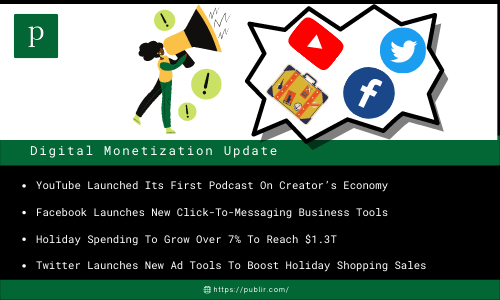 1. YouTube Launched Its First Podcast On Creator's Economy (SocialMediaToday)

YouTube launched its first-ever podcast 'The Upload: The Rise of the Creator Economy' on Wednesday. The podcast featured interviews of YouTube stars, discussing tips and techniques they used to build their business on the platform. This is an effort to create awareness of what goes beyond the screens and to attract more star creators.

2. Facebook Launches New Click-To-Messaging Business Tools (SocialMediaToday)

Facebook launched a new click-to-message ad options tool on Thursday that allows businesses to engage customers with different messaging apps. According to Facebook, it is an effort to establish a direct connection with customers for interaction with chat-based ads on its platform that allow businesses to communicate directly with customers.

3. Holiday Spending To Grow Over 7% To Reach $1.3T (MediaPost)

Deloitte and MasterCard SpendingPulse have predicted an increase in both in-store and eCommerce spending in the winter holidays. The forecast predicts the holiday retail sales to rise between 7% and 9% to $1.28 trillion and $1.3 trillion and the eCommerce sale to grow between 11% to 15%, to a total of $210 billion and $218 billion in internet shopping.

4. Twitter Launches New Ad Tools To Boost Holiday Shopping Sales (MediaPost)

Twitter announced a series of advertising product updates for this holiday shopping season to engage the audience with culturally relevant conversations surrounding trends, events, and occasions by pushing video ads before Twitter's "brand-safe content partners" and campaign option to engage in sponsorship with one of its selected partners.

5. News UK To Debut A TalkTv By Early 2022 (NewsUK)

News UK, with its broad inventory of websites and apps in the UK, is aiming to launch a "talkTV" by early 2022. The channel will be available across formats, like live streaming, linear TV, OTT, and social media. The new channel will offer hourly news bulletins, sports, entertainment shows, current affairs, debates, opinions, and documentaries.

6. Influential Teaming Up With Mark Wahlberg For Quality Content (AdAge)

Influential, an influencer marketing company, is teaming with Unrealistic Ideas and CrossCheck Studios to funnel all studio-level content and campaign needs of the brands. According to Ryan Detert, CEO and founder of Influential, the teaming-up will enable it to serve its Fortune 1000 clientele with world-class, film studio-quality production.

7. Sad Demise Of Genius, A Music Annotation Startup (NiemanLab)

Genius, a startup that started its journey as decoding rap lyrics (annotations) in 2015, ended up selling its assets to MediaLabs for just $80 million, a price that is far less than what it raised from the market. Dubbed as the future of journalism when launched, it tried to expand to news annotations and failed to meet industry expectations.