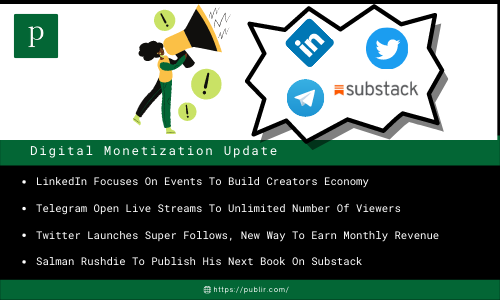 1. LinkedIn Focuses On Events To Build Creators Economy (AdAge)

After shutting down LinkedIn Stories, LinkedIn is focusing on live events to build its place in the creator economy. LinkedIn is debuting this new feature that allows LinkedIn's 2,500 instructors to host live events through LinkedIn Learning, a platform it launched in 2016.

2. Telegram Open Live Streams To Unlimited Number Of Viewers (TheVerge)

With its newest version, Telegram, the messaging app that's increasingly becoming a full-fledged social media network, has added capability for video livestreams. The app's new version 8.0, which is now available on both iOS and Android, enables an unlimited number of users to watch live feeds, up from the previous limit of 1,000.

3. Twitter Launches Super Follows, New Way To Earn Monthly Revenue (TheVerge)

Twitter adds a new feature, Super Follows, allowing users to earn monthly revenue by sharing subscriber-only content. The feature will let a user set a monthly subscription of $2.99, $4.99, or $9.99 to monetize bonus and "behind-the-scenes" content. Currently, Twitter is rolling out this feature to a small group of users based in the US and Canada.

4. Salman Rushdie To Publish His Next Book On Substack (TheGuardian)

Over the course of a year, Salman Rushdie's next book will be published on Substack, with new portions released once a week. On Substack, readers may subscribe to specific writers, and their postings are sent to their email or viewed online. Writers frequently offer a combination of paid and unpaid work, which is what Rushdie intends to do.

5. YouTube Music Reaches 50M Paid Subscribers, In Race To Catch Spotify (FT)

YouTube's paid music streaming services have 50 million subscribers, a significant milestone for Google as it competes in the fiercely competitive market with Amazon, Apple, and Spotify. YouTube Music costs $10 per month, and YouTube Premium, which includes additional video features, costs $12 per month.

6. MRC Suspends Nielsen's National And Local TV Rating Accreditation (AdAge)

The Media Rating Council denied renewing Nielsen accreditation of its national and local TV ratings on Wednesday on the issue that Nielsen underreported viewers during the pandemic. Nielsen has plans to develop Nielsen ONE, its media measurement currency across linear, CTV, mobile, and desktop, which is expected to launch beginning in Q4 2022.

7. Contentsquare Acquires Hotjar To Serve SMB And Mid Marketers (MediaPost)

Digital analytics company Contentsquare has acquired Hotjar, a product experience insights platform that serves the SMB market. Together, they employ over 1,000 people and serve 1 million websites in 180+ countries. Contentsquare plans to use AI tools to broaden its reach and bring critical business insights to SMB.