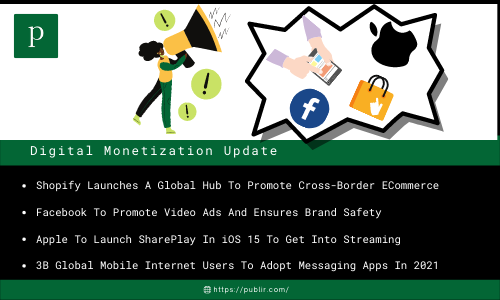 1. Shopify Launches A Global Hub To Promote Cross-Border ECommerce (MediaPost)

Shopify will be launching a global commerce hub to implement cross-border eCommerce strategies of the brands, a dream unfulfilled for years due to local currency issues. Shopify's new platform can support 1 billion orders and allows marketers to optimize specific locations and facilitates conversations in the native language of the buyer.

2. Facebook To Promote Video Ads And Ensures Brand Safety (AdAge)

With intensified competition from Snapchat and TikTok, Facebook wants to make a difference to advertisers by announcing its plans to add a video ad offering, a new feature that fits well within CTV and the streaming spaces. Facebook also emphasizes adding video brand safety features, a primary concern of advertisers for quite some time.

3. Apple To Launch SharePlay In iOS 15 To Get Into Streaming (TheVerge)

Not satisfied with iPhones, iPads, smartwatches, and Apple TV+, Apple aims to enter into the streaming business. Apple is planning to launch SharePlay, a new feature in its forthcoming iOS 15 to enable its users to stream content from devices within its ecosystem, as well as from other services together, in real-time.

4. 3B Global Mobile Internet Users To Adopt Messaging Apps In 2021 (EMarketer)

With an exception to the US mobile internet users, 3.09 billion people will be using mobile messaging apps globally, for reasons that include interactive features, video calling, commerce, and payment. Its adoption is lower among mobile internet users in the US due to the prevalence of free, unlimited SMS messaging and widespread iPhone usage.

5. Bill Gates Funds A New Digital Publication To Fight Climate Crisis (Axios)

"Cipher", which means zero, is a new digital publication dedicated to cover the climate crisis to reduce 51 billion tons of greenhouse gases emitted per year now to zero by 2050. Backed by Breakthrough Energy, a climate advocacy network of Bill Gates, Cipher enjoys complete editorial freedom and releases a weekly newsletter and a regular video series.

6. A New Digital Media Company To Focus On Space Business And Policy (Axios)

Not confined to space travel, Payload, a new digital media company aims to expand coverage on space business and space policy, a fast-expanding field in the US. 2.19 million workers are employed in the US aerospace and defense industry, which is a $350 billion a year market currently, and is expected to reach $1.4 trillion by 2030.

7. Apple Upgrades iPhone 13 With 5G, Camera, And Chip (AdAge)

Apple Inc. unveiled a series of new and advanced iPhone 13 models, including iPhone 13, iPhone 13 mini, iPhone 13 Pro, and iPhone 13 Pro Max, with 5G capabilities and new features like camera and processor enhancements. iPhone 13 includes a smaller display cutout at the top of the screen with faster chips and upgraded camera systems.