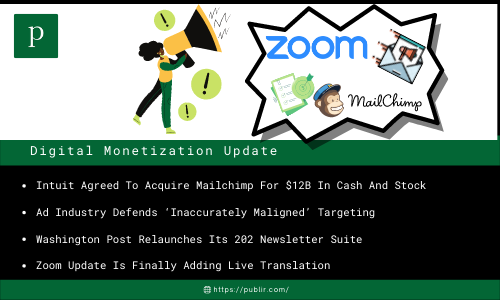 1. Intuit Agreed To Acquire Mailchimp For $12B In Cash And Stock (CNBC)

Intuit Inc., the maker of TurboTax and QuickBooks software, agreed to buy privately held email marketing firm Mailchimp for $12 billion in cash and stock, uniting both the companies that extend services to SMEs. The deal will bolster Intuit's offerings for businesses looking for ways to reach and serve customers online.

2. Ad Industry Defends 'Inaccurately Maligned' Targeting (MediaPost)

The Association of National Advertisers said that the recent advertisements urging people to get vaccinated for the COVID-19 appear as demographic targeting works. "Targeted ads about the vaccination effort are everywhere," the ANA writes in a new blog post. "This is a new day for targeted advertising, which has been inaccurately maligned.

3. Washington Post Relaunches Its 202 Newsletter Suite (Axios)

The Washington Post is re-launching its 202 newsletter suite with new features, including a new email around climate, facilitating authors with an expanded product suite. The redesigned products are prone to provide more personality-driven features to meet current market needs.

4. Zoom Update Is Finally Adding Live Translation (TheVerge)

At its annual Zoomtopia conference on Monday, Zoom unveiled several new features for the video chat platform, aiming to help its millions of users in the transition to the hybrid workforce. Upgrades include live, multilingual transcription, and translation for Zoom calls. The feature will be available by the end of next year.

5. South Korea Fines Google $177M For Abusing Market Dominance (Bloomberg)

South Korea fined Google $177 million on Tuesday for leveraging its dominant power in the smartphone market to stunt the development of competing operating systems. Regulators accuse Google of exploiting its enormous bargaining power to force out the competitors with its mobile operating system that powers more than 80% of the world's smartphones.

6. Advertising As Fastest-Growing Revenue Source Of Music Industry (MediaPost)

If current trends continue, advertising is on course to generate more than $1 billion in income for the US music industry this year, making it the fastest-growing revenue source for streaming/subscription music services (RIAA). This is a 54.3% growth over the first half of 2021 for streaming services with on-demand, ad-supported content.

7. The Met Gala Will Have Its First-Ever 'Meme Correspondent' (NBCNews)

A new position, created by Instagram, will see social media influencer Saint Hoax turned into "Instagram's first-ever Meme Correspondent on the Met Gala red carpet". The decision to have Saint Hoax creating memes directly from the red carpet is part of a conscious effort to give viewers more of a behind-the-scenes look at the event.