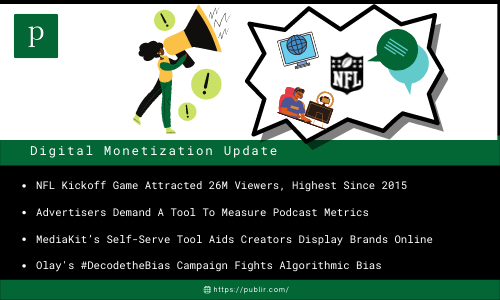 1. NFL Kickoff Game Attracted 26M Viewers, Highest Since 2015 (Variety)

The Dallas Cowboys' showdown with the Tampa Bay Buccaneers was the most-watched NFL Kickoff Game in six years, which attracted 26 million viewers across linear TV, Peacock, and NBC Sports Digital, according to Nielsen. In addition, 1.6 million viewers watched it via mobile properties, and Yahoo Sports mobile, up 64% from last year's NFL Kickoff Game.

2. Advertisers Demand A Tool To Measure Podcast Metrics (DigiDay)

Podcast advertising revenue is expected to exceed $1 billion this year with users getting them on smartphones, smart speakers, and cars connected with 5G. Yet, programmatic buying is less than 5% of that revenue. Advertisers want a technology that determines episodic-level metrics to target listeners and viewers for brand safety and suitability.

3. MediaKit's Self-Serve Tool Aids Creators Display Brands Online (MediaPost)

MediaKits, a new creator-first data analytics company, has updated its decades-old press kit, for influencers, musicians, and athletes. It constantly updates the data of a creator's business, product, or events – online, as the creator's data gets often outdated, and sending analytics to brands was monotonous and time-consuming for the creator.

4. Olay's #DecodetheBias Campaign Fights Algorithmic Bias (AdExchanger)

Weeks after Facebook's public apology on algorithmic bias, Olay launched a campaign against bias on the basis of age, weight, race, and gender on Monday to coincide with National Coding Week. It has got an ambitious plan to invite at least 1,000 young women of color to code camp next summer through a partnership with Black Girls CODE.

5. Amazon Branded TV To Reach US Consumers Next Month (MediaPost)

Amazon has announced that it was developing its own-branded smart TV that will be available for the US consumers from next month, exclusively through Amazon online and its Best Buy stores. Amazon is the first to offer branded TVs, as Google and Roku have sold branded streaming sticks, integrated to their streaming services in TVs earlier.

6. YouTube Forces Discord To Shut Rhythm In One Week (TheVerge)

YouTube wants Rhythm, the most popular music bot on Discord, to shut down within a week. Rhythm is installed on more than 20 million Discord servers and over 560 million Discord users play music from YouTube videos. YouTube has already made Groovy, a Discord music bot to shut a week ago due to security and legal implications of third-party bots.

7. AppleTV+ To Add Over $500M To Its Marketing Budget (TheInformation)

When Apple launched AppleTV+, people did not trust its abilities. At present, AppleTV+ has an estimated 40 million subscribers, and over 50% are paying for it. Apple is significantly planning to boost its content output and plans to increase its marketing budget to more than $500 million now.