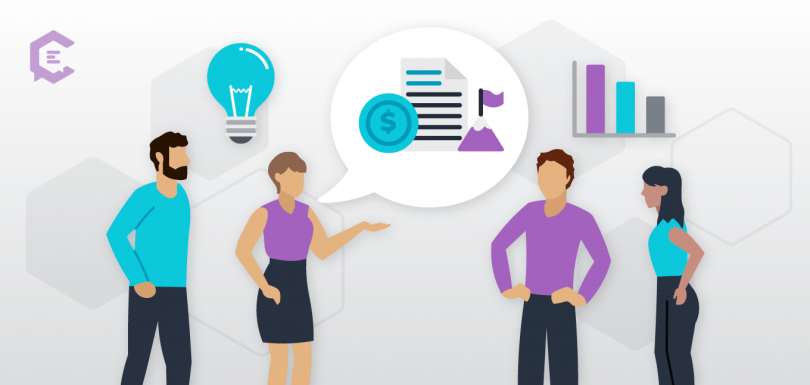 As a company, setting your product/service apart from the competitor and making it the first choice for your target audience is very important. A value proposition helps because it helps in closing sales, persuading people to buy from your company. Writing a strong value proposition is key to creating value for your brand so consumers want what you have to offer. A good value proposition speaks directly to your audience in a personal way and should form the core of your brand's messaging.
From creating interest to communicating your messaging, and enticing people to work with you, or buy from you, it is an important part of the total brand message. The brand's tagline is the overarching idea, the value proposition supports the tagline, and brand messaging pillars are stories that help support both.
What Is a Value Proposition?
Customers want to know what you have to offer. A value proposition is a brief summary of the benefits your product or service provides them. These could be functional and emotional, and the value proposition should also convince your customers that you're there for them, which might make them choose your brand over the competition. A value proposition is at the center of successful marketing and should be the primary messaging on your website, with everything else supporting and reinforcing the point that it makes. As the value proposition is the deciding factor, if your target audience doesn't fully understand it, there's no reason for them to stay on your site, let alone engage with your company.
What Are The Main Elements Of A Value Proposition
A value proposition has 3 main elements, namely –
The Headline
This is perhaps the most important bit as it sums up the benefit that the customer stands to gain from buying something from your site. Make it creative, but clear, catchy yet concise and you'll have their attention immediately. A good headline vs a bad one is all it takes to make a difference between sales and a customer loss.
Subheading
A brief explanation of what you want to point out in your headline should explain in detail the offerings and terms of your company. This should be brief too, as customers don't like reading sites with too much textual content on them.
Visual Elements
Whether it's an infographic, video, or a simple image, convey your value proposition through some visual aid. Text and words alone are boring. Visual elements can enhance your message and effectively captivate your target audience.
How Do You Write A Great Value Proposition?
Writing a great value proposition consists of some simple steps, namely.
Determine Your Target Audience's Problem.
Every product/service aims to solve a customer problem/smoothen out a life experience in some way or another. This might need some research, but holding a meeting with the marketing and sales team can give you an insight into what your customers are looking for. For instance, if your business sells nutritional products for athletes like hydration gels or nutrition bars. Your ideal customer is a person looking for the best yet a most economic way to stay fueled during their workouts. In this case, your company's products could be the offering they've been looking for. The important point to keep in mind here is to gauge your customer's priorities correctly.
Know Your Product
This is sacrosanct. From listing out every product you sell to describing in detail, the benefits of each, your product knowledge and the ability to showcase it should be top-notch. Each benefit should be brief and focus on individual customer needs. If you were running an online cycle store that sold bikes and accessories you would want to list each kind of bike under different categories, like road, MTB or hybrid, and explain the benefits of each to the consumers. Similarly, for products like shifters, chains, gloves, riding shoes, or helmets you'd have different sections showcasing each, and listing their benefits so consumers can find easy solutions to their problems.
Why These Product Benefits Are Valuable
It doesn't help just to list out product benefits and salient features like a list. Today's customers want more. Always add content that connects benefits to customer needs. Explain to customers why they need these benefits. For example, if you run a chain of stores that offer car mechanic services, explain to customers why they should choose you over regular service providers. For example, if BMW customers went to a BMW authorized service center, they'd get charged more dollars than you'd charge them for a particular car service package.
Connect These Values to Customer Problems
You need to finally connect the buyer's problem to the USPs that make your product or service valuable. If they align, your value proposition is ready for the final step – differentiating it from your competitors. If they don't, then you need to repeat the earlier steps till you find a customer base with a problem that your product provides the solution for.
Set Yourself Apart From Competition
Your customer needs to trust you. For that, your value proposition needs to be very unique. What is that specific customer service that you have mastered, that others don't have? Do you provide any additional value-added services? These small details can help you differentiate your value proposition, making it unique and catering to customer needs.
Keep Testing
Your value proposition needs to be communicated through every marketing channel that you use, online and offline. But, before that, carry out a small test run with first-team members and then a small user group of loyal customers using different channels. Get feedback so you can implement changes on the fly, and quickly finalize the entire concept before presenting your value proposition.
While Writing Your Value Proposition Keep In Mind –
Language Clarity
Address a primary customer need. Keep your value proposition clear, easy, and concise. Stick to one main idea, so your customer can decide quickly whether to subscribe to your product or not.
Clear Results
Be clear about what your customer can expect to receive if they buy your product or service. Does it save them time, or help them create a better workflow, or simplify their presentations? Anything needs to be communicated clearly because your customers have to see how your solution tackles their problems.
Be Different
Get inspired, but don't blatantly copy from competitors. In fact, if you are inspired, try to flip the concept around to create something interesting that you've come up with yourself. Be as different as you can from your competition, while staying true to what your customers want. Remember, they all want a personalized solution.
Final Thoughts
In conclusion, the importance of a good value proposition cannot be over-emphasized. If you can't make your audience understand your brand, then how will they understand why they should choose your products over everyone else's? While there isn't a one-size-fits-all solution, the trick to finding the ideal value proposition is to keep testing different versions and gauging the responses. Chances are, that you'll identify one variation that might be performing better than the others. Implement it and see how it performs. Read our blog on brand salience so you can try and influence your customer's choices as much as possible so they buy or subscribe to your product/service.