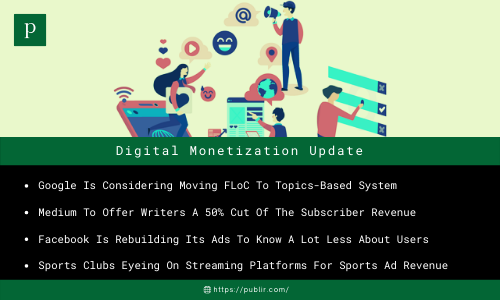 1. Google Is Considering Moving FLoC To Topics-Based System (DigiDay)

After postponing its plan to deactivate third-party cookies in Chrome, Google may be exploring a move away from cohort-based ad targeting and toward a cookie-less system based on topics. This may provide advertisers, ad-tech companies, website publishers, and the general public with a better knowledge of how ads are targeted using the technique.

2. Medium To Offer Writers A 50% Cut Of The Subscriber Revenue (DigiDay)

Medium announced the launch of a referral program to share more of its revenue with a smaller, more motivated collection of authors. Medium, as per the new rules, will give program participants a 50% cut of the new subscriber revenue their content generates, after payment processing fees. It has so far paid $28 million to 200,000 contributors.

3. Facebook Is Rebuilding Its Ads To Know A Lot Less About Users (TheVerge)

With evolving regulations in tracking personal identities of users across the internet for ad targeting, Facebook is working on ways to target ads, placing more value on user privacy. Along with Google, it is examining several privacy-enhancing techniques to deliver personalized ads without knowing anything about those who view them.

4. Sports Clubs Eyeing On Streaming Platforms For Sports Ad Revenue (AdAge)

Sports viewing is shifting to streaming platforms from TV in the Asia Pacific region, according to GlobalWebIndex. More than 317,000 people watched an exclusive interview with Lionel Messi, the world's best-paid Soccer player on Twitch recently. Soccer clubs are equally eager to win over younger audiences through streaming platforms.

5. Global Q2 Streaming Is Up 13% And Smart TV Usage Rose By 43% (MediaPost)

Worldwide TV streaming usage, on all devices, was up 13% in Q2, according to a recent study from Conviva. The top three regions in 2021 include South America, up 192%, Africa, adding 79%, and Asia, growing 43%. North America inched up 2%. There was a 46% rise in smart TV usage for watching streaming videos, followed by mobile, up by 30%.

6. Twitch's Improved Chat Filters To Curb Hate Speech on Platform (TheVerge)

Twitch reacted to the "Twitch Do Better" campaign and took steps to protect its marginalized streamers from hate raids and other forms of harassment. It introduced improved chat filters to detect hate speech in chat and will implement more safety features to the account verification process to ban evasion detection tools in the coming weeks.

7. Alphabet To Launch A Device With Augmented Hearing Abilities (TheInformation)

Google's parent Alphabet has been building wearable earbuds with augmented-hearing abilities for years secretly, codenamed "Wolverine". It would let people listen to select voices in a crowd. Alphabet's CFO Ruth Porat, who takes major investment decisions on cloud computing, is behind this project. Alphabet has plans to release it soon.