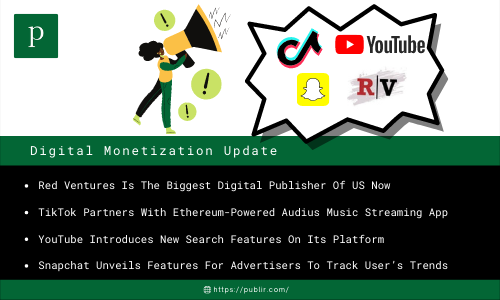 1. Red Ventures Is The Biggest Digital Publisher In US Now (NYT)

Started as a digital marketing company, Red Ventures has turned into the biggest digital publisher in America now, with 751 million visits a month and $2 billion in revenue. Located in South Carolina, amidst residences for employees, Red Ventures built a culture that blends enthusiasm, progressive social values, and performance metrics.

2. TikTok Partners With Ethereum-Powered Audius Music Streaming App (MSN)

Audius, a music streaming platform based on the Ethereum and Solana blockchains, is partnering with TikTok on the video-sharing app's new "TikTok Sounds" library. The partnership is the first of its kind for TikTok and aims to streamline TikTok's current music upload and selection process.

3. YouTube Introduces New Search Features On Its Platform (TechCrunch)

YouTube has introduced two new features to help users discover the material easily that includes visual search capabilities and the ability to find foreign language videos with captions in the user's native tongue. Users can also skip straight to the chapter they are most interested in from the search page.

4. Snapchat Unveils Features For Advertisers To Track User's Trends (AdAge)

Snapchat unveiled new features, a blend of Google Trends meets and TikTok's hashtags. Advertisers can see words and phrases that are trending on the app and can add up to four additional keywords to search by time frame to see how topics compare to each other or spot any patterns. Searches are available across the US, UK, Canada, and Australia.

5. YouTube Gives Premium Subscribers 3 Free Months Of Stadia Pro (TheVerge)

Starting this week, subscribers to YouTube Premium can redeem a perk that gives them three months of Stadia Pro. The offer applies to YouTube Premium subscribers with individual, family, and student accounts in the following countries: US, UK, Canada, France, Germany, Hungary, Netherlands, Norway, Poland, Romania, Spain, Sweden, and Switzerland.

6. Adobe Bringing Magic Wand Tool To Photoshop For iPad (TheVerge)

Adobe has announced an update on Photoshop by introducing this feature on iPad. Photoshop is a classic desktop tool missing from the original launch of the app, the Magic Wand. Adobe is adding the tool, making it easier for iPad users to select, adjust, or remove specific elements of a larger project with a tap.

7. US Digital Ad Spend On Auto Industry To Reach $1.22B In 2021 (EMarketer)

Digital ad spending on the US auto industry is on the rise from 2020's pandemic-propelled losses, allowing for a full recovery by the end of 2021. Digital ad spending on the auto industry will be $1.22 billion in 2021 and will continue to grow to $19.00 billion by 2023. More than 3 in 10 digital ad dollars spent go to in-stream and out-stream videos.