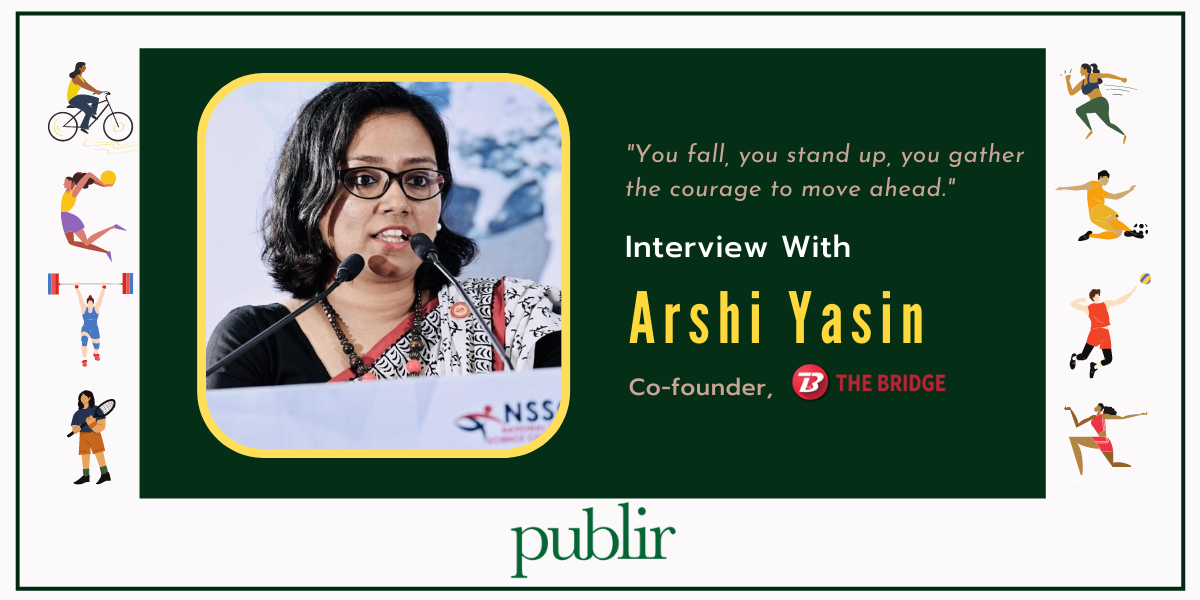 In India, it is quite rare to come across a website dedicated to sports beyond cricket. The Bridge is the flag bearer of journalism that caters to various sports across the nation and gives each sport its due share of media attention.
The Bridge, in reality, aims to revolutionize the sports environment and, more crucially, the way Indians perceive sports in our country.
Connecting with the Co-founder of The Bridge, here is a brief rendezvous with Ms. Arshi Yasin.
About Ms. Arshi Yasin –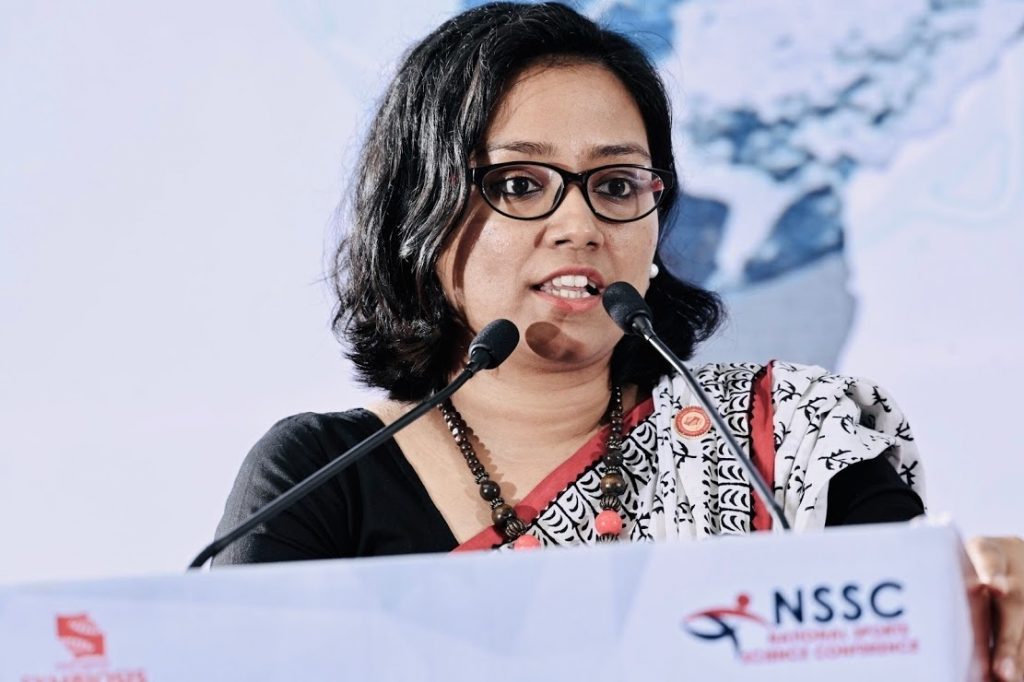 After studying engineering and spending a few years running successful social media campaigns driving social change for various entities and among her other expertise, Arshi finally found her calling – sports media. She truly believes that sports can be an excellent tool for social change especially gender equality.
Born in Kishanganj, a remote district in Bihar, in a traditional Muslim household, Arshi grew up with the same teachings which the majority of middle-class daughters get from their parents. Her early life molded her affinity to speak out for social causes as she understood the power of digital media. Although she had always been interested in sports, she never saw herself devoting herself to this passion as a career. However, as she moved up the ladder in her corporate career, she realized the gap in India's sports media industry and, aptly named, launched The Bridge.
Ms. Arshi Yasin spoke to Publir about her exciting experience as the co-founder of a sports website and the different monetization challenges she faced in order to make this website a success. Have a read!
How has your journey been in the world of news and journalism?
Describing her journey in the field of news and journalism, Arshi said that The Bridge is only four years old, and it is a specialized platform that focuses solely on Indian sports. Her team was always aware of how sports influenced the Indian audience, and they believed in the power of storytelling through their website to give the audience what they want in terms of quenching their thirst with the knowledge of sports.
Arshi further explained that the way a story is told always adds value to "the sportspersons and other stakeholders of the entire industry, be it the coaches, the sports ministry, the federations, and associations, etc."
According to Arshi, in India, there is no single medium dedicated solely to covering sports stories. When it comes to the country's periodicals, such as The Times of India or The Hindu, sports is not the topmost priority for the mainstream media.
Arshi shared a small anecdote from the time when she was working in a publication and had to cover a story with a colleague on the Women's Ice Hockey Team of India. It was a stepping stone for her and an eye-opener as well. "In India, how many of us even know that we have an Ice Hockey Team? We don't even know how Ice Hockey looks for that matter," Arshi told Publir.
After a journey of 8-9 months where they did a huge digital campaign, which includes crowdfunding, for the Indian Women's Ice Hockey team, she quit the job and founded her first venture – The Bridge, with her Co-founder.
Arshi was pleased to see the website's tremendous growth in such a short period of time, despite being in such a niche area. The Bridge has monthly traffic of 15 to 17 million, and "it is not something we can ignore," she beamed.
What is your take on sports and hero-worshipping in India?
Despite the fact that our country has so many sports, we are still unaware of many of them. What could be the reason behind this? Arshi correctly described it as a trend of Hero Worshipping in our country, where the audience focuses on a few sportsmen and creates content and tales about them while willfully neglecting others.
While we all know that most well-known athletes are managed by public relations and athlete management firms, we need to recognize more athletes to raise their morale and inspire others. As Arshi put it bluntly by asking, "Till when will we celebrate PV Sindhu? Do we even know who the junior-level players are?"
She is also emphatic about the importance of storytelling in this field, stating that the power of storytelling is crucial in every sport because apart from cricket, our country pays little attention to other sports.
How has the journey of 'The Bridge' been so far?
The Bridge's path was slow and steady, with the crew working in phases and attempting to adapt. They realized that expanding the business across all verticals at the same time was impossible because it required human resources, finances, and a lot of good material on the website. Since they had fewer team members, Arshi and her team also got off to a slow start with few articles in the beginning.
Their team valued quality over quantity and focused on having fewer but excellent stories. In their first year, they wanted to build a name for themselves in the industry, which they did admirably. When they finally gathered the appropriate kind of eyeballs, all of their hard work paid off.
The second year was 2018 when Indonesia hosted the Commonwealth and Asian Games. Arshi excitedly said, "In India, we only talk about sports when there is some important tournament going on, be it Olympics, Asian Games, or Commonwealth Games, but apart from that we forget about sports."
Fortunately, The Bridge rode the wave of the Commonwealth Games that year, and India fared exceptionally well, which was great for the website as well. Arshi was pleased that their website had begun to gain traction among sports fans and that they were attracting a sizable audience during the games.
As the company increased in size, the team moved its focus to the website's monetization as well. Despite the fact that it is the newest addition to their growth, they are now giving it a lot of attention, which is working out well for them. Arshi presented a little illustration of the company's monetization data when she noted that they had crossed $100 per day last week, which was an accomplishment in itself for such a niche company.
People grew more technologically oriented during the pandemic when the entire world was trapped inside their houses, and it was the ideal opportunity to monetize the website in the best conceivable way. Arshi was delighted to hear from Publir, as monetization is one of our main areas of concentration.
Improving the website from a technical standpoint has aided them, and Arshi stated, "We should have done this in the first year," demonstrating her understanding of the importance of monetization in today's digital world of competition. Later, she admitted that it was all part of the learning process and that trying new things is never too late.
What are the primary revenue streams for your website?
When asked about The Bridge's key revenue streams, Arshi simply stated, "In one word, if you ask me, it's an advertisement." She later stated, however, that it had numerous sublayers.
They use Google Ads to handle their revenue, which is generated by website advertisements. Additionally, revenue is generated from YouTube video ads and Facebook ads.
They also do media sales and branded content through partnerships with brands that promote sports, directly or indirectly. The Bridge integrates different businesses into the website by approaching them with the goal of covering sports competitions and supplying them with a predetermined quantity of sports stories, videos, and advertisements among others.
Furthermore, there are several obstacles to overcome when it comes to generating revenue. Arshi boldly stated that they have a specific type of audience that follows their work, and that their audience cannot be compared to that of other media websites.
She agreed that it is really tough for any niche platform to achieve a large audience and that they are continuously trying new things, expanding their horizons, in order to reach a larger audience every day. She considers sport to be a serious endeavor, and her staff does not believe in adding spice to such content.
What are your views about third-party cookies and their impact on ad revenue?
Arshi believes that Google's decision to stop supporting third-party cookies in Chrome will have a substantial impact on the website's ad earnings. Arshi is not worried about preparing things in a specific way for this because she has a lot on her plate at the moment.
Although she stated that she will certainly prepare for it in the future, the team is currently focused on the Tokyo Olympics. The team will work on how to deal with such a massive change after the Olympics is over by August.
Arshi informed us that the average age of her team members is 25 and that she is glad to say that her team takes their work seriously when it comes to developing content for different kinds of sports.
Do you think Indian digital privacy laws are reasonable?
When it comes to applying digital laws in our country, Arshi has no qualms in stating that our digital laws are highly imprecise and poorly designed. She believes that our government should be more proactive in identifying digital flaws and enacting cyber laws to address them.
According to her, in order for us to be prepared for cyber dangers, protocols must be in place. Rather, we wait for the worst to happen before implementing any sort of procedure.
Arshi also brought up the issue of modern-day Indian public intolerance. People express themselves digitally on many social networks, and their opinions on diverse topics are occasionally hurtful to others. And here lies the problem when it comes to enforcing digital rules.
What are some of the problems faced by your website?
Dealing with copyright issues is one major challenge The Bridge faces currently. When compared to written information, creating content for a video is more difficult and time-consuming.
Arshi alleges that despite adhering to every social media platform's guidelines, they have received copyright accusations on a couple of their YouTube videos. The biggest problem, she argues, is that on social media, "there is no proper repository of information for the video creation team."
However, it is infuriating for a team to witness a video that they have worked hard on, being downloaded, edited, and shared on various social media channels, where The Bridge may gain brand exposure but not views.
They believe that in the current digital environment, such concerns as piracy and copyright may be impossible to resolve. There is an evident need for strong standards and legislation that make it difficult to just duplicate someone's stuff without properly crediting it.
What are your upcoming revenue plans for 'The Bridge'?
"Our primary role is to create content," Arshi stated when asked about The Bridge's revenue streams in the next few years. "We are a content creation company, we do stories, journalism, and so our revenue has to be uniform."
The firm has a separate team in the organization dedicated to media sales that are continually selling brands and ad agencies. Revenue from YouTube advertisements, Facebook ads, and Adsense, on the other hand, is automatic and proportional to what they produce.
Similarly, the team intends to reduce human participation and put up a technology that generates money in a consistent manner on a daily basis.
In terms of audience, The Bridge is aiming for 50 million viewers in the next two months, with the Tokyo Olympics set to take place. They will undoubtedly seek to monetize all of the traffic by producing high-quality content while remaining true to their vision.
Arshi is also interested in monetizing video content on its platform. "Videos are the current big thing," she says, "and people like to 'watch' more content than read it." The Bridge is currently creating primarily social media-driven videos for YouTube and Facebook, but they want to monetize those videos by hosting them on their website.
What kind of collaboration do you have in mind with Publir?
Arshi is loving the game of entrepreneurship with The Bridge, despite the many hurdles she has because sports are a big part of her life. She believes it teaches you many essential life lessons, saying, "You fall, you stand up, you gather the courage to move ahead."
Arshi admitted that she had seen Publir's website several times and that her team is in contact with Publir for future partnerships. She is eager to collaborate with us on Ad and Content Monetization.
We are equally delighted to collaborate with the team of The Bridge and want to continue working together in the coming years. We hope that Arshi and her team keep inspiring sports enthusiasts and have a successful journey ahead of them.
Read more blogs on our website related to digital monetization and other digital services that can benefit your business.
Subscribe to our Daily Newsletter for updates in the industry.