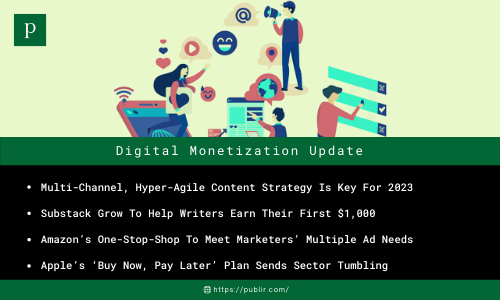 1. Multi-Channel, Hyper-Agile Content Strategy Is Key For 2023 (eMarketer)
The US adults will spend nearly 8.5 hours per day with digital media by 2023, which is equal to 65% of total time with media, leading to increased investment in digital advertising. Consumers will turn to various devices, platforms, and resources for content. Hence, a multi-channel, hyper-agile marketing strategy remains crucial in the future.
2. Substack Grow To Help Writers Earn Their First $1,000 (TheInformation)
Substack is attempting to increase the number of writers who can support themselves through paid memberships. It will start a new program called "Substack Grow" next month, which will provide a free six-session Zoom training to help writers create a devoted following and earn their first $1,000.
3. Amazon's One-Stop-Shop To Meet Marketers' Multiple Ad Needs (MediaPost)
Amazon introduced a partner network of international agencies and tool providers designed to build a community for its advertising business. The network will pair brands with a suite of in-house products to give advertisers one place to access educational, technical, and marketing resources, including a content library.
4. Apple's 'Buy Now, Pay Later' Plan Sends Sector Tumbling (Bloomberg)
Apple Inc. is developing a service that would allow customers to pay for any Apple Pay transaction in installments, sending shares of Afterpay and other 'buy now, pay later' firms down. Apple will utilize Goldman Sachs as the lender for the loans, as it has done with the Apple Card credit card since 2019.
5. Data, Technology And New Analytics Are Key For Brands In Future (AdWeek)
Over the next five years, the global marketing industry is forecasted to grow by 19%. By 2026 brands are expected to spend $66 billion annually on data, technology, and new analytical approaches to convert shoppers into buyers, up from $27 billion in 2021. Brands can learn from TikTok and Dating Apps on building loyal customer relations.
6. France Fines Google $593M For News Copyright Violations (AdAge)
In France, Google was fined 500 million euros ($593 million) for failing to comply with a court order to negotiate a fair agreement with publishers to utilize their news material on its platform. The punishment is France's second-largest antitrust sanction for a single business.
7. Instagram Testing Re-Share Label To Boost Engagement (AdAge)
Instagram is experimenting on offering users new ways to promote other people's content on the photo-sharing network — a push that could boost engagement. This will give account holders the option to add a "re-share" sticker on top of their Instagram stories, ephemeral posts of annotated photos and videos.