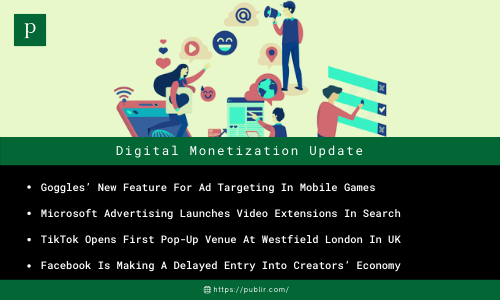 1. Googles' New Feature For Ad Targeting In Mobile Games (AdAge)
Google partnered with AdMob, which works with game developers to monetize their gaming apps with in-app advertising, to introduce a new feature called tROAS. The new capability allows developers to find users who are more likely to engage with in-app ads to better maximize their ad spend and marketers the ability to reach more gamers.
2. Microsoft Advertising Launches Video Extensions In Search (MediaPost)
Microsoft Advertising released Video Extensions, giving advertisers the opportunity to combine all types of business information with the ad, including address, phone number, store rating or more webpage links. The extension adds video to create attention for the ad that can serve up with site links.
3. TikTok Opens First Pop-Up Venue At Westfield London In UK (TheGuardian)
TikTok is opening its first shop in Westfield shopping center in west London. The short-form video app will open its new pop-up venue, TikTok For You House, on July 22, kicking off several weeks of creator activations, bookable experiences, and educational sessions. The 4,000-square-foot space will be divided into multiple themed rooms.
4. Facebook Is Making A Delayed Entry Into Creators' Economy (NYT)
Facebook wants to engage the best creators for its platform, wooed by the success of Instagram in doing so. Facebook is making a late entry, as many creators who make and profit off meme-y online content have already flocked to rival platforms like YouTube and TikTok that are far ahead in providing creators, digital tools and monetization options.
5. Gmail Stepping Up BIMI Security Standards To All Its Inboxes (MediaPost)
Gmail is rolling out BIMI (Brand Indicators for Message Identification), a security standard that allows firms to display their brand logos alongside authenticated email messages to all its inboxes this month. BIMI is an industry-wide effort to advance email authentication and help all brands protect themselves.
6. Facebook Delays Brand Safety Audit A Year After Advertisers' Boycott (DigiDay)
Facebook publicly committed to an MRC audit on the platform's content monetization and brand safety controls by June 2021, amid a collective boycott from spending on the platform by advertisers because their ad messages were adjacent to content, supporting hate speech, misinformation, and pornography. Facebook is yet to honor its promise.
7. TikTok Launches On Fire TV Devices In The UK, France, And Germany (TheVerge)
TikTok has announced that its TikTok TV app will be available on Fire TV devices in the UK, France, and Germany. Fire TV users will be able to see their 'For You' and 'Following' TikTok feeds on the big screen, as well as popular content on TikTok with high like and view counts.