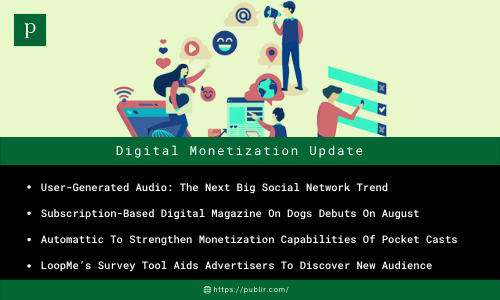 1. User-Generated Audio: The Next Big Social Network Trend (TheVerge)
Multiple startups, including Beams, Quest, and Nowzad's app Pludo are betting their efforts and investors' cash into user-generated audio. Facebook announced Soundbites earlier this year, a shareable short audio clip. Mass-created clips are already popular on TikTok. User-generated audio would be the next viral frontiers for app monetization.
2. Subscription-Based Digital Magazine On Dogs Debuts In August (MediaPost)
Mark Druckers' digital magazine 'Love, Dog' debuts on August 18. Each month, it builds an issue around five content pillars: Dog Behavior & Companionship, Rescue & Adoption, Literature & Podcasts, Health & Wellness, and Style & Design for a subscription of $48 a year. Later, readers will have a choice between a $60 price per year or $7 per month.
3. Automattic To Strengthen Monetization Capabilities Of Pocket Casts (TheVerge)
Automattic, which runs WordPress.com and Tumblr, announced that it has acquired Pocket Casts, the well-regarded podcast app. Automattic has a powerful distribution channel and its go-to content management system for the web, WordPress, which is prioritizing new content creation channels is expected to sharpen its monetization capabilities.
4. LoopMe's Survey Tool Aids Advertisers To Discover New Audience (MediaPost)
LoopMe debuts a new tool- PurchaseLoop Audiences this week, as a standalone offering on LiveRamp Data Marketplace. LoopMe offers advertisers a way to discover audiences through its survey tool that reaches 250 million U.S. users and covers 90 million U.S. households. The offering is opt-in and does not rely on cookies to build the segments.
5. WhatsApp Tests Encrypted Cloud Backups For Android (BGR)
The latest WhatsApp beta for Android includes a test for end-to-end encrypted cloud backups. You will not have to worry that hackers or spies will easily read your conversation history. You will need to create a separate password for restoring your backups, and you cannot get them back if you lose both your phone and password.
6. Movie Studios Building Personalized Social Media Experience For Gen Z (LAT)
As blockbuster films return to theatres, studios are creating personalized, targeted experiences on social media sites where younger consumers spend more of their time. Studios like Universal Pictures are relying on virtual, audio-only forums on Twitter where actors can tune in remotely and take questions from fans.
7. Blackstone Invests $250M For Majority Stake In Simplilearn (TechCrunch)
Blackstone is investing $250 million to acquire a majority stake in Bengaluru-based online digital skilling platform Simplilearn. This marks the former's first PE investment in India's consumer tech space. The Blackstone funding values Simplilearn at $400 million.