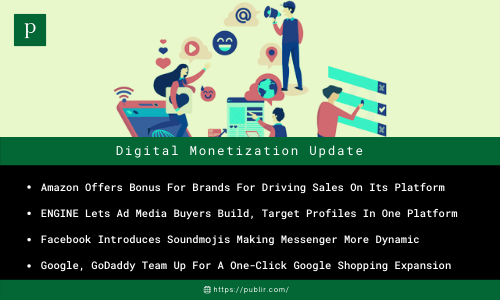 1. Amazon Offers Bonus For Brands For Driving Sales On Its Platform (AdAge)
Amazon announced a new advertising program called "brand referral bonus" to encourage brands to drive sales to its online store, as opposed to linking elsewhere online. If a brand runs digital ad campaigns outside of Amazon and sends the traffic with links to Amazon, resulting in a sale, the seller receives 10% of the sales price as "bonus".
2. ENGINE Lets Ad Media Buyers Build, Target Profiles In One Platform (MediaPost)
ENGINE launched a platform for its media exchange that offers first-party data and integrations for advertisers to develop audience targets, plan media across channels, and take action. The platform helps media buyers seeking one platform to build and target audiences.
3. Facebook Introduces Soundmojis Making Messenger More Dynamic (CNET)
Facebook has added a new feature to Messenger called Soundmojis, which lets you send short sound clips over chat. Soundmojis can be generic such as applaud, drumroll, and laughter, or movie and TV tie-in material. Facebook will regularly update the Soundmojis library with more content and will launch it in time for World Emoji Day on July 17.
4. Google, GoDaddy Team Up For A One-Click Google Shopping Expansion (MediaPost)
GoDaddy that offers a variety of services for more than 20 million customers, has partnered with Google to introduce a one-click Google Shopping expansion to easily create ads. The expansion includes posting free listings on Google to promote products on the Google Shopping tab, Google Search, Google Images, Google maps, and Google Lens.
5. A New Website Turns Clips Into Videos For Social Media (TheVerge)
Logitech-owned Streamlabs, the maker of the popular live streaming app Streamlabs OBS, is releasing a new tool today called Crossclip that lets you take your favorite Twitch clips and turn them into social videos formatted for platforms like TikTok, YouTube, or Instagram.
6. NBCU's Peacock Clinched $500M In Upfront Ad Commitments (CampaignUS)
NBCUniversal has wrapped its annual upfront negotiations with $500 million in commitments to its premium AVOD service, Peacock, just one year since its debut. NBCU achieved its largest-ever haul in digital sales bringing in more than $1.5 billion in sales, a 67% YoY increase, with double-digit growth in volume and price across the board.
7. Twitter Rolls Out Captions For Voice Tweets (TheVerge)
Twitter is rolling out captions for voice tweets, the company announced Thursday. Twitter first launched voice tweets in June 2020, which received criticism for not having captions. Now, when you make a voice tweet the captions will be generated in English, Japanese, Spanish, Portuguese, Turkish, Arabic, Hindi, French, Indonesian, Korean, and Italian.