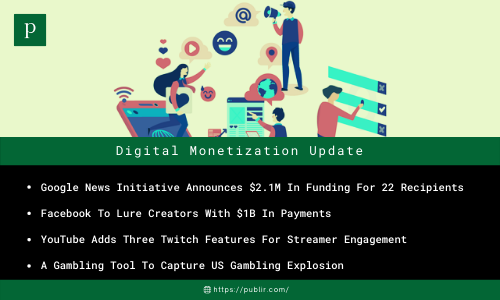 1. Google News Initiative Announces $2.1M In Funding For 22 Recipients (TheNation)
Google is announcing $2.1 million in funding to projects and initiatives in 14 different countries, including Turkey, Kenya, Syria, and Morocco. It launched an open call for applications in February and received 329 applications from 35 countries.
2. Facebook To Lure Creators With $1B In Payments (TheVerge)
Facebook just announced plans to pay content creators more than $1 billion by the end of next year through new bonus programs designed to keep creatives plugged into its app ecosystem. The company will pay creators through a series of new bonus initiatives across Facebook and Instagram.
3. YouTube Adds Three Twitch Features For Streamer Engagement (TheVerge)
YouTube is adding three new features for live-streaming today that help streamers engage with their community. Streamers will now be able to limit their chats to subscribers only, they will be able to create polls inside of their chats, and they and their viewers will now be able to create clips from popular gaming streams.
4. A Gambling Tool To Capture US Gambling Explosion (AdAge)
Online gambling showed strong growth amid the lockdown and now. To better understand outlooks on commercial gambling, YouGov launched Global Gambling Profiles, a tool that continually gathers data on gamblers. It provides insights into where people typically gamble and the types of bets they tend to place and uncovers lifestyles.
5. Amazon Launches Kindle Vella Serialized Story Service On iOS And Web (Engadget)
Amazon will launch Kindle Vella, an interactive reading experience for serialized stories. Available in the US on the Kindle iOS app and on Amazon.com, Kindle Vella stories are published one short episode at a time, the first three episodes of every story are free. They can be purchased at $1.99 for 200 tokens to $14.99 for 1700 tokens, which is around 34 episodes.
6. Brands Social and Mobile-First Strategy Is Paying Well (AdAge)
Power Ford, the Albuquerque, New Mexico, franchisee of Ford Motor Company, revived its marketing strategy by reducing media spend by 21%, reallocating it to better-performing social media channels. This coordinated strategy saw a 10% gain in market share and Power Ford claimed the No. 1 selling Ford dealership title in New Mexico four times in 2020.
7. 72% of Brands' Marketing Spend Is On Digital Media In 2021 (MediaPost)
According to Gartner's annual CMO Spend Survey, marketing budgets as a proportion of company revenue fell from 11% in 2020 to 6.4% in 2021 and digital channels account for 72.2% of the total marketing budget, with CMO's indicating they're shifting offline budgets into digital spend.