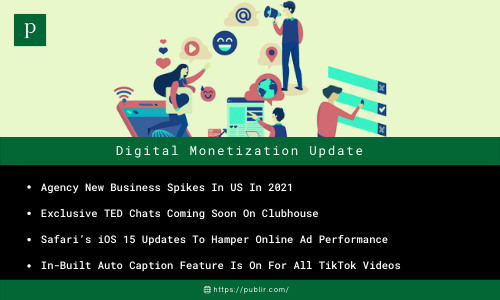 1. Agency New Business Spikes In US In 2021(MediaPost)
Agency new business activity picked up in the first five months of 2021 globally. Consultant R3 Worldwide reports that net new agency business revenue in the U.S. doubled from January to May 2021 to $544 million, with the number of reviews climbing up to 60%. Globally, net new business revenue rose 47% to $1.3 billion.
2. Exclusive TED Chats Coming Soon On Clubhouse (The Verge)
Clubhouse has partnered with one of the most popular podcast networks, TED, to bring exclusive chats to the social audio platform throughout the summer and beyond. The first room called Thank Your Ass Off, will start July 12th and run weekly at 11 AM ET on Mondays. TED is free to sell brand partnerships or ads and Clubhouse won't take a cut.
3. Safari's iOS 15 Updates To Hamper Online Ad Performance (AdExchanger)
The beta version of Safari for iOS 15 users may seriously hamper online ad performance. A new Tab Bar with browser controls floats at the bottom of the page and controls atop the screen. The new Tab Bar disappears while scrolling but reappears when users scroll up a page. It will also block pop-up requests to log in or accept first-party cookies.
4. In-Built Auto Caption Feature Is On For All TikTok Videos (The Verge)
The Deaf Collective in association with TikTok developed an auto caption feature inbuilt for TikTok. It is possible to enable auto-captions for all videos in TikTok now and if users prefer not to have the captions on, they can easily shut them off. Auto caption is a boon to people with hearing difficulties and those without headphones.
5. Delivery Company Instacart To Enter Into Ad Market (Axios)
Media companies used to be the biggest sellers of advertising globally, followed by tech giants. Every industry that has a digital presence is now trying to build an ad revenue line. Retailer, Grocers, Pharmacy, and Gaming app companies have already made their way. It is the turn of delivery companies like Instacart to follow the suit.
6. Digital-First Advertisers Can Access TV Inventory Now (MediaPost)
Viamedia's ad-tech division, QTT, has received a patent that expands digital-first advertisers' ability to buy local and national advertising on cable and broadcast TV through their digital DSPs. This connects the largest pool of premium video advertising inventory to DSPs and SSPs while giving inventory owners control of the process.
7. Flipkart Valued at $37.6B In New $3.6B Fundraise (TechCrunch)
Flipkart said on Monday it has raised $3.6 billion at a post-money valuation of $37.6 billion in what is considered as the pre-IPO round for the Indian e-commerce conglomerate as it works to list in the public markets as soon as early next year. The new round of funding is by far the largest for any Indian startup.