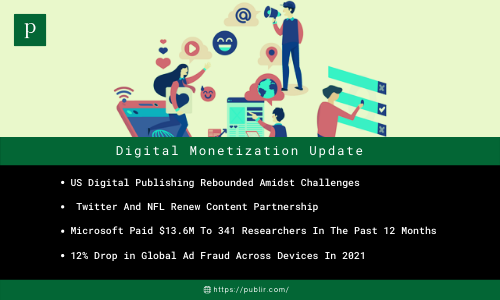 1. US Digital Publishing Rebounded Amidst Challenges (MediaPost)
Boostr analyzed 54 US-based digital publishers from January 2019 to December 2020 and concluded that they have recovered from the stresses of 2020. Revenue for 67% of publishers rebounded in the fall of 2020, and 94% got stable by the end of the year. Publishers however face challenges like selling amid the cancellation of in-person events (16%).
2. Twitter And NFL Renew Content Partnership (AdAge)
The NFL and Twitter have updated their content relationship, dating back to 2013, and are now starting live audio cooperation. The NFL has committed to producing exclusive content on Twitter Spaces, the social network's new live audio feature, the entire season under the multi-year deal extension.
3. Microsoft Paid $13.6M To 341 Researchers In The Past 12 Months (TheRecord)
Over the past 12 months, Microsoft awarded $13.6M in bug bounties to more than 340 security researchers across 58 countries. The largest award was $200K under the Hyper-V Bounty Program. With an average of more than $10,000 USD per award across all programs, each of the 1,200+ eligible reports reflects the talent of the global security research community.
4. 12% Drop in Global Ad Fraud Across Devices In 2021 (AdExchanger)
DoubleVerify studied post-bid data by examining more than a trillion impressions in 80 markets across more than 2,100 brands from May 2020 to April 2021. It found that, globally, post-bid fraud and sophisticated invalid traffic rates were down 30% YoY from 2% to 1.4% across desktop, mobile app, mobile web, and CTV. CTV ad frauds dropped to 0.4%.
5. Publishers See Global Economy As Their Major Threat (MediaPost)
Publishers rate the global economy, not the decline of display advertising, as their biggest future threat, according to "The Future of Publishing" study by Akamai. A hybrid model involving ads, ad-lite, and subscriptions is the optimal strategy for most consumer publishers, as the digital subscription is working well for few content verticals.
6. PodcastOne Turns Launchpad One With Revenue Generation Options (TheVerge)
PodcastOne, the podcast network behind wrestling shows, is expanding and rebranding its free hosting service as Launchpad One. It now allows podcasters to not only host their shows, but also accept PayPal donations, distribute the show across platforms, and insert their own ads. It also markets shows that use its platform across its own network.
7. Square Plans To Make Hardware Wallet For Bitcoin (TheVerge)
Square has decided to go ahead with building a bitcoin hardware wallet and service, a month after company CEO Jack Dorsey announced that it is considering the move. Jesse Dorogusker, Square's Hardware Lead, has revealed on Twitter that the company came upon the decision "to make bitcoin custody more mainstream."