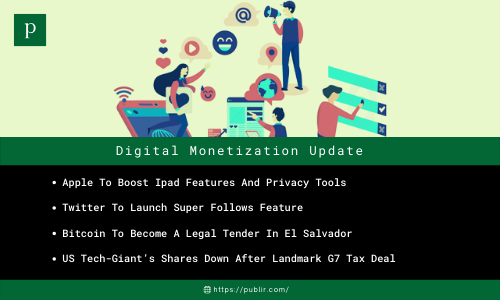 1. Apple To Boost iPad Features And Privacy Tools (Bloomberg)
Apple plans to announce major software updates for the iPhone and iPad at its developers' conference next week. The virtual event will also include software updates for the Mac, Apple Watch, and Apple TV. Apple plans to discuss new privacy protections, limiting data collection, health-tracking, notifications and messaging features.
2. Twitter To Launch Super Follows Feature (TechGazeta)
Twitter unveiled a Super Follows Feature earlier this year that would allow users to charge followers and provide them access to extra material. App researcher Jane Manchun Wong shared screenshots of what it may look like on Sunday. The Twitter Super will be limited to Twitter users with a minimum of 10,000 followers.
3. Bitcoin To Become A Legal Tender In El Salvador (Engadget)
El Salvador may soon accept Bitcoin as a legal tender. The country is currently looking to pass legislation which would make it the first nation to do so. This would bring Bitcoin to the same status as the US Dollar. The news was revealed by President Nayib Bukele during Bitcoin 2021, a multi-day Bitcoin event in Miami.
4. US Tech-Giant's Shares Unmoved After Landmark G7 Tax Deal (Reuters)
Shares of US technology giants were down slightly in premarket trading after it agreed on a landmark global minimum corporate tax deal. The G7 advanced economies agreed on Saturday to back a minimum global corporate tax rate of at least 15%. Shares of Facebook, Amazon, Apple, Microsoft, and Alphabet were down between 0.1% and 0.5%.
5. Facebook Acquires Collaborative Game-making Platform 'Crayta' (Engadget)
Unit 2 Games is now part of Facebook Gaming. The developer, known as Crayta, is a platform that gives you an easy way to create your own games. Facebook will absorb the Unit 2 team and own its technology, according to FAQs the company posted about the acquisition. The team would not stop working on Crayta, and the game will continue to be available.
6. Tinder Adds New Feature To Block Contact (TechCrunch)
Dating App Tinder has added a new feature where users can upload their phone contacts to select people that they would not like to opt for, such as an ex, a co-worker or a family member. According to a Tinder survey, 40% of people have found an ex-partner on the app, 24% have encountered a family member and one in 10 has even encountered their professor.
7. Sina-Led Alliance In Final Talks To Buy Stake In YooZoo Games (Reuters)
A partnership managed by China's leading Internet company Sina Corp will purchase at least 18% of the Yoozoo Games during advanced discussions. An 18% interest in Yoozoo, based on the Shenzhen company's market value of $2.5 billion on Friday, represents over $2.86 billion yuan ($447 million).