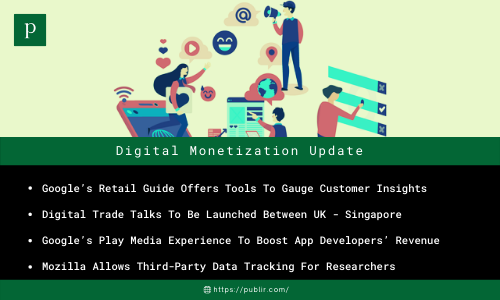 1. Google's Retail Guide Offers Tools To Gauge Customer Insights (AdAge)
According to a Google survey, 39% of customer's retail buying is more online today than they were a year ago. To help businesses and brands craft a strategy to drive more sales, Google created a retail guide with useful tools to get product recommendations and consumer insights to reach business and marketing objectives.
2. Digital Trade Talks To Be Launched Between UK-Singapore (Reuters)
Businesses and consumers can look forward to a UK-Singapore Digital Economy Agreement that will establish rules to enable trusted cross-border data flows and ensure high standards in data protection. The joint statement said businesses of all sizes will benefit from the increased clarity and reduced costs associated with seamless digital transactions.
3. Google's Play Media Experience To Boost App Developers' Revenue (ArsTechnica)
There are 3 billion active Android devices in use now and to encourage mobile app developers to support Android, Google announced the "Play Media Experience Program" that offers a major proposition of revenue to developers. As against a 30% cut on sales through the Google Play store, it will accept 15% charges on the first $1 million in revenue.
4. Mozilla Allows Third-Party Data Tracking For Researchers (Digiday)
Mozilla, which does not allow third-party ad trackers in the Firefox app, introduced a new service, Mozilla Rally, which allows browser users to sign up for data tracking for specific research purposes. Researchers at Princeton University tracking Rally users to study how political and COVID news is read and shared online.
5. IBM Deploys Artificial Intelligence To Explore Online Ad Bias (MediaPost)
IBM Watson Advertising plans to embark on a six-month research project to explore whether Artificial Intelligence can detect and mitigate bias in advertising. IBM aims to research areas such as audience segmentation, creative messaging, performance optimization and campaign impact.
6. Google Search Engine Warns You When It Does Not Have Reliable Answer (Gizmodo)
Google is testing a new feature to notify people when they search for a topic that may have unreliable results. Danny Sullivan, a public liaison for Google Search said, "the notice isn't saying that what you're seeing in search results is right or wrong — but that it's a changing situation, and more information may come out later."
7. Clubhouse NHL Partnership Allows Fans To Interact With Teams (AdAge)
Clubhouse is partnering with the National Hockey League ahead of hockey's Stanley Cup Final. The invite-only audio social app will give fans the chance to chat with teams in Clubhouse rooms. Earlier this April, Clubhouse tied up with the National Football League for football fans.