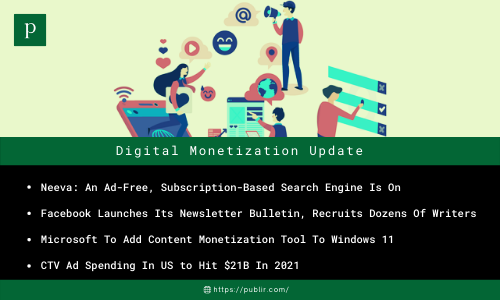 1. Neeva: An Ad-Free, Subscription-Based Search Engine Is On (AdExchanger)
A $150 billion Search Engine market is growing at 15% or more YoY and one player dominates it. Sridhar Ramaswamy, the former Senior Vice President of Ads & Commerce at Google co-founded an ad-free, subscription-based search engine startup, Neeva. After a year of testing with a 10,000 user base. Neeva is available for the public from Tuesday.
2. Facebook Launches Its Newsletter Bulletin, Recruits Dozens Of Writers (CNN)
Facebook is launching a new newsletter product named Bulletin. Bulletin is Facebook's answer to Substack: a platform for creating and disseminating both free and paid newsletters. According to the reports, Facebook has hired dozens of writers in fields such as sports, science, health, and finance.
3. Microsoft To Add Content Monetization Tool To Windows 11 (MediaPost)
Microsoft will release the next version of its Windows operating system, Windows 11 for users during this holiday season and adds a tipping tool for readers to support content creators, such as local publishers, by offering cash or rewards points. Microsoft does not collect a commission on donations.
4. CTV Ad Spending In US to Hit $21B In 2021 (MediaPost)
CTV ad spending in the U.S. is projected to hit nearly $21 billion this year and will grow at an annual rate of about 23% through 2030, reaching about $100 billion that year, according to a Wall Street equities research team at BMO Capital Markets. Unlike linear inventory that targets broad demographics, CTV targets individual users directly.
5. Facebook Has Become A $1 Trillion Company (Reuters)
Facebook closed above $1 trillion in market capitalization for the first time on Monday. It is the fifth US Company to hit the milestone, joining Apple, Microsoft, Amazon, and Alphabet. Its shares closed up 4.2% at $355.64 after a favorable legal ruling that dismissed an antitrust complaint brought by the US Federal Trade Commission.
6. Digital Customer Experience Adds 4M New Users To Ralph Lauren (AdAge)
Ralph Lauren, an American fashion company added 4 million new customers through its direct-to-consumer platforms and got double-digit growth in online sales during this pandemic-accelerated rollout. Its consultative optimization project and improved mobile experiences to its customers have connected the worlds of in-store and online shopping.
7. Federal Court Dismisses Antitrust Case Against Facebook (CNBC)
A federal court on Monday dismissed the FTC's antitrust complaint and the parallel cases brought by 48 state attorneys general against Facebook, which could have split Instagram and WhatsApp from Facebook. The court states that the FTC did not prove Facebook maintains a monopoly. Shares of Facebook rose more than 4% on Monday following the rulings.