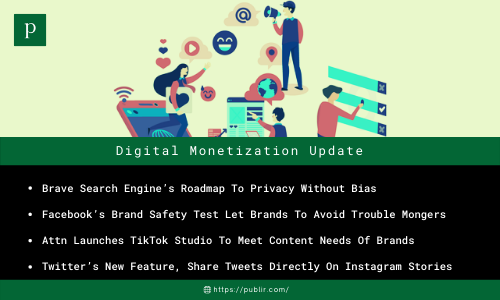 1. Brave Search Engine's Roadmap To Privacy Without Bias (MediaPost)
Brave becomes a formidable competitor to Google Search, Bing, and others with the release of its Search engine in beta today on all Brave browsers, across desktop, Android, and iOS. The search engine runs its own index that follows privacy principles and does not track or profile users. There are no secret algorithms that would bias results.
2. Facebook's Brand Safety Test Let Brands To Avoid Trouble Mongers (AdAge)
1.8 billion Users are sharing political posts daily on Facebook's Newsfeed. Facebook began an "alpha" test to offer "topic exclusions" for a select group of advertisers. It is analyzing tens of millions of users' accounts, and blocking ones that are deemed unsuitable for brands that want to avoid "news and politics".
3. Attn Launches TikTok Studio To Meet Content Needs Of Brands (AdAge)
Navigating TikTok with content to engage a large Gen Z audience is a challenge for brands. Attn, the media company that focuses on social issues, is launching its own TikTok Studio to cater to the diverse needs of brands from strategy ideation to matching brands with creators. Unilever, Clorox, Madewell, Google, MTV, and Geico are its earliest clients.
4. Twitter's New Feature, Share Tweets Directly On Instagram Stories (TechCrunch)
Now Instagram and Twitter users on iOS will be able to share tweets as Stories. However, users cannot open the tweet from the Story and will have to head to Twitter to find it. Also, this update only allows users to share tweets on Instagram Stories and not make them into Instagram posts.
5. Nearly 40% Ads On YouTube Are Watched On TV, Up From 12% (TheInformation)
Nearly 40% of YouTube advertising in the US is now seen on television sets, up from only 12% two years ago. The shift implies that the viewing habits of YouTube's audience are coming to mirror those of other streaming services, particularly during the pandemic, when individuals were confined at home close to their TVs.
6. Facebook Adds Aggressive Shopping Features To WhatsApp And Instagram (MediaPost)
Facebook announced updates to advance its aggressive, ongoing push into eCommerce. The initiatives include launching its Shops on WhatsApp, bowing Shops Ads, and preparing to test AI-driven visual search for shopping on Instagram. WhatsApp is being functionally linked to Facebook's other eCommerce offerings, Facebook Marketplace, and Instagram Shops.
7. Instagram Testing To Add Suggested Post Feature For Users (TheVerge)
Encouraged by the success of its feature "suggested posts", Instagram is testing to introduce this feature throughout the user's primary feed, ahead of photos and videos from people they follow. It is also testing new controls to allow users to add specific topics for their suggested posts and the ability to snooze the recommendations for 30 days.