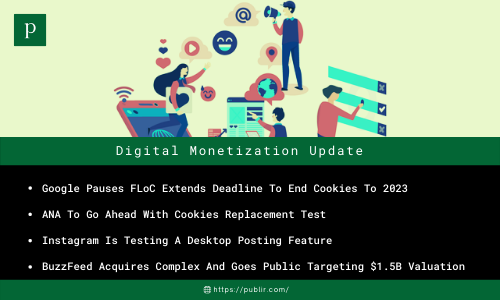 1. Google Pauses FLoC Extends Deadline To End Cookies To 2023 (MediaPost)
Google has extended its deadline to deprecate third-party cookies in its Chrome until late 2023, from the original January 2022 date. The company is working on ways to replace third-party cookie tracking with Federated Learning of Cohorts (FLoC). Publishers, advertisers, and web developers have time now to test and build feasible alternatives.
2. ANA To Go Ahead With Cookies Replacement Test (AdAge)
The Association of National Advertisers said that it is joining Comscore to pilot test a 'Virtual People ID' as a privacy-preserving measure to track audiences across digital and TV platforms. This is to measure audiences and manage ad frequency across platforms in cookies-less Google's Chrome or app-to-app data transfer in Apple devices.
3. Attn Launches TikTok Studio To Meet Content Needs Of Brands (AdAge)
Instagram is testing the ability to create posts using the web browser on a desktop computer. "We know that many people access Instagram from their computer," spokesperson Christine Pai said. "To improve that experience, we're now testing the ability to create a Feed post on Instagram with their desktop browser".
4. BuzzFeed Acquires Complex And Goes Public Targeting $1.5B Valuation (CNBC)
BuzzFeed said Thursday it plans to go public via a special purpose acquisition company (SPAC). The company is targeting a $1.5 billion valuation. It has also merged with Complex Networks, a style, culture, and music publisher to bring additional "independent editorial" brands into the fold and ramp up distribution across BuzzFeed's network.
5. Snapchat Inks Deal With Universal Music Group To Bring Major Artists (TheVerge)
Snapchat signed a multi-year partnership with the world's largest record label group, Universal Music to bring its artists' tracks to the platform. Snapchatters can search for music from various artists like Justin Bieber, The Bee Gees, Katy Perry, and others. Snap aims to compete better with TikTok with this deal.
6. Amazon Acquires Podcast Hosting, Monetization Company Art19 (TheVerge)
Amazon has announced that it is acquiring a major podcast hosting and monetization platform Art19, the latest hint that it is planning an expansion of its podcast footprint. The company did not disclose the price of the deal, but it said the acquisition will allow Amazon to "expand our offerings and even better serve your podcasting needs"
7. Instagram Xfinity Adopts Digital Playground Concept To Meet Customer Expectations (AdWeek)
Comcast allows visitors to view its Xfinity retail stores as "digital playgrounds", adding AR. The cable operator can be regarded as a source of entertainment and advanced technology for subscribers even when they are off the couch. The Digital Playground concept is a response to consumers' evolving expectations.