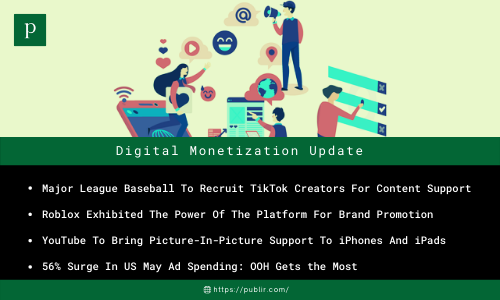 1. Major League Baseball To Recruit TikTok Creators For Content Support (AdAge)
Major League Baseball (MLB) announced a contest on TikTok to find its own class of content creators. MLB is looking for five to ten influencers to become brand ambassadors, who will be known as the league's first "Creator Class" and will pay them for creating content around players, both on and off the field, and will pay per TikTok post.
2. Roblox Exhibited The Power Of The Platform For Brand Promotion (AdAge)
Warner Bros. promoted its new "In the Heights" movie on Roblox, an online game platform through a virtual flash mob dance. It has attracted nearly one million players in one day. Warner Bros' Block Party experience, a virtual event on Roblox has already attracted 9.4 million visits. Gaming platforms help brands in reaching gamers in the metaverse.
3. YouTube To Bring Picture-In-Picture Support To iPhones And iPads (TheVerge)
The YouTube app on iOS will bring picture-in-picture support, allowing all users to watch videos while doing other things on their iPhones and iPads. YouTube currently rolls out this feature for Premium subscribers, and that a launch for all iOS users (including the free ones) in the US is in the works. Apple added support for picture-in-picture video for iPads with iOS 9, and brought it to iPhones with iOS 14.
4. 56% Surge In US May Ad Spending: OOH Gets the Most (MediaPost)
The US ad market surged 56% in May, according to SMI data. Most media, including print medium, has benefitted from the rebound, with the exception of consumer magazines. The biggest resurgence is expected to be in out-of-home advertising and radio. The major agencies estimated $90 billion ad spending in the US in 2021.
5. Pluto TV Ad Revenue To Exceed $1B In 2022 (HollywoodReporter)
ViacomCBS expects its advertising VOD service Pluto TV to reach more than $1 billion in revenue in 2022, CEO Bob Bakish told an investor conference on Monday. Pluto TV touched $70 million mark in 2018 and it may surpass $1 billion in revenue in the fourth quarter of 2021.
6. Crypto Finance Startup Amber Group Raises $100M Valued At $1B (TechCrunch)
Amber Group, a Hong Kong-based cryptocurrency trading startup, said on Monday it has raised $100 million in a Series B funding round at a pre-money valuation of $1 billion. The latest valuation is ten times that of the company's Series A closed in 2019, a $28 million round that counted Coinbase Ventures as one of its investors.
7. Amazon Workers To Strike On 'Prime Day' (Reuters)
Workers at seven warehouses of Amazon in Germany have been called out by German trade union to go on a strike during the global Prime Day promotion on Monday. They had been reported to be organizing a three-day walkout for improved pay and working conditions as part of the long struggle with the American Tech Giant in Germany.