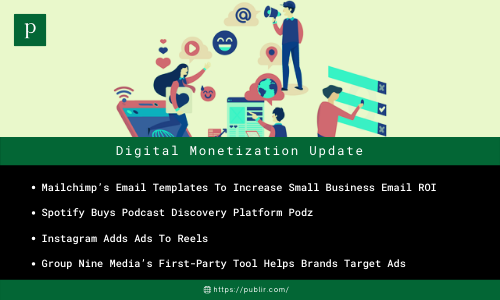 1. Mailchimp's Email Templates To Increase Small Business Email ROI (MediaPost)
The way small business owners, marketers, and entrepreneurs communicate with their audiences has changed considerably and they are looking for the right tools. Mailchimp released new email templates that would help small businesses to increase their email ROI significantly by streamlining their marketing efforts and increasing their email ROI.
2. Spotify Buys Podcast Discovery Platform Podz (9To5Mac)
Spotify announced its acquisition of Podz, a startup that solves the problems of podcast discovery. Podz developed what it called "the first audio newsfeed", presenting users with 60-second clips from various shows. Podcasters often use apps like Headliner to create clips to promote on their social media accounts, and Podz follows the same idea.
3. Instagram Adds Ads To Reels (AdAge)
Starting today, Instagram will launch ads in Reels, the platform's short-form video competitor to TikTok. Following a test on select countries and brands, Reel allows full-screen and vertical ads, like ads that appear in Stories. The ads will appear in places where users can view Reels, including the Reels Tab, Stories, Explore, and Instagram.
4. Group Nine Media's First-Party Tool Helps Brands Target Ads (AdExchanger)
Group Nine Media launched a first-party data solution called "In-GeNuity" in response to the end of third-party cookies. In-Genuity is integrated with Group Nine's G9 direct response offering, allowing direct-to-consumer brands to access Group Nine's first-party data to send targeted ads to consumers via Group Nine's Instagram and Facebook accounts.
5. Nielsons' New Metrics To Measure CTV Viewing In 14,000 US Households (NYT)
CTV has revolutionized the viewing habits of millions of Americans, but the streaming companies are reluctant in sharing data on how many people are watching. Nielsen, which measures linear TV ratings, announced new metrics to measure streaming viewing in 14,000 US homes via hardware that watches internet traffic passing through a router.
6. Snapchat Launches Creative Kit For Spotlight (TheVerge)
Snapchat is making it easier for developers to use viral content to directly promote their apps. Today, it is launching a Creative Kit, which allows app developers to give users the power to publish directly to Snapchat's TikTok rival, Spotlight. At the same time, Snapchat users can browse content made on those apps and download them easily.
7. Google Cloud Taps AMD For New Service As Chip Wars Het Up (Reuters)
AMD and Google Cloud stated that Google will provide cloud computing services based on the latest data center chip in AMD and this would strengthen AMD's push for market share from the competitor Intel Corp. Some of the major consumers of data center processors are cloud computing companies such as Google, Amazon.com Inc., and Microsoft Corp.