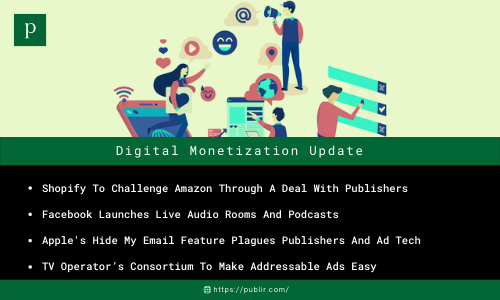 1. Shopify To Challenge Amazon Through A Deal With Publishers (TheInformation)
Shopify, which provided online tools to merchants, is rolling out a new service that will allow content publishers to link to merchants in the Shopify network in exchange for a cut of transaction revenue. This affiliate marketing is designed to offer publishers and retailers an alternative to Amazon and Walmart. BuzzFeed has joined this program.
2. Facebook Launches Live Audio Rooms And Podcasts (LiveMint)
Facebook is officially rolling out new audio products, including a Clubhouse live audio competitor as well as new support for podcasts, with the launch of Live Audio Rooms in the US on iOS, starting with public figures and select Facebook Groups, and the debut of an initial set of US podcast partners.
3. Apple's Hide My Email Feature Plagues Publishers And Ad Tech (AdExchanger)
Apple introduced "Hide my Email", a feature that generates fake email addresses and forwards them to someone's real address, so people can sign up for newsletters or digital registrations without giving away their email to any company except Apple in iOS. This feature restricts publishers and ad tech from collecting first-party data, essential for campaigns.
4. TV Operator's Consortium To Make Addressable Ads Easy (WSJ)
Marketers are pushing their TV partners to integrate as large digital companies that allow them to target ads to specific audiences. TV distributors, including Comcast, Charter Communications, Altice, and others have formed a consortium called 'Go Addressable' to advance addressable TV advertising and make it easier to navigate a fragmented landscape.
5. TikTok Jump Links Creators' Content With Apps (AdAge)
TikTok announced a new way for creators to build their content with mini apps, giving users a new way to discover and interact with third-party content straight from creator videos. The new program, called TikTok Jump, allows creators to add links to their videos leading to additional content built into the app, like recipes, movie reviews and more.
6. Packvertising Is A New Advertising Strategy (MediaPost)
Direct-to-consumer brand United Sodas of America's "anti-design" packaging stripped away conventional elements such as logos, ingredients, nutritional info, etc. Using product packaging, they have designed an engaging and expansive brand experience. Used evocative colors that helped the brand differentiate and stand out.
7. Music Licensing Marketplace Songtradr Raises $50M (MBW)
Music licensing marketplace Songtradr this morning announced a $50 million Series D. The oversubscribed round — which features Regal, Aware Super, Perennial, Argo, and Greencape — follows a $30 million raise last August, bringing the Los Angeles company's total funding to north of $100 million.