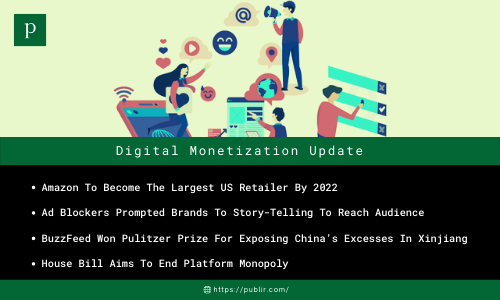 1. Amazon To Become The Largest US Retailer By 2022 (CNBC)
Amazon is on track to surpass Walmart as the largest US retailer by 2022, says JPMorgan analysis. Amazon's advertising business grew by 52.5% last year, pushing its share of the US digital ad market past 10% for the first time, fortifying its position as the No. 3 ad publisher, behind Google and Facebook.
2. Ad Blockers Prompted Brands To Story-Telling To Reach Audience (AdWeek)
As 70 million people in the US used ad blockers last year, brands used storytelling instead of ads. Nike co-produced a documentary, The Day Sports Stood Still, shedding light on how the Covid-19 affected the sports world and Dove won an Oscar for its animated short, Hair Love, a heartfelt tale about a father learning how to do his daughter's hair.
3. BuzzFeed Won Pulitzer Prize For Exposing China's Excesses In Xinjiang (Poynter)
BuzzFeed News won Pulitzer Prize, the highest honor in US journalism, on Friday, for a series of innovative articles that used satellite images, 3D architectural models, and daring in-person interviews to expose China's vast infrastructure for detaining hundreds of thousands of Muslims in its Xinjiang region.
4. House Bill Aims To End Platform Monopoly (Vox)
House lawmakers proposed a raft of bipartisan legislation aimed at curtailing the biggest tech companies, including Google, Apple, Facebook, and Amazon. The biggest congressional broadside ever on a handful of technology companies, the bill seeks structural separation of big technology companies to break up their businesses to end platform monopoly.
5. Twitch Expands Brand Sponsorships On Non-Esports Content (AdAge)
Since Twitch is increasing in content, spectators, and brand partners, the popular Amazon streaming network with gamers expands its brand support chances to increase content outside competitive sports. A new official marketing partner program is to begin work on Twitchgaming, Twitch's own gaming channel.
6. GB News Launches In Britain To Emulate Format Of US Networks (CNN)
Britain channel GB News was launched on Sunday with the format of heavily-opinionated US cable TV networks like Fox News and MSNBC, rather than the news program formats prevailing at present in the United Kingdom. It will share the TV landscape with a remark that wades directly into cultural disputes.
7. Immersive Labs Closes $75M Series C Led By Insight Partners (Techkee)
A platform that teaches cybersecurity skills to corporate employees by using real, up-to-date threat intelligence in a "gamified" way, Immersive Labs, has closed down a $75 million Series C funding round led by new investors Insight Partners along with Menlo Ventures, Citi Ventures, and existing investor Goldman Sachs Asset Management.